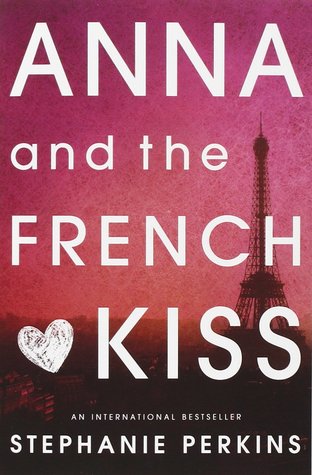 Anna is looking forward to her senior year in Atlanta, where she has a great job, a loyal best friend, and a crush on the verge of becoming more. Which is why she is less than thrilled about being shipped off to boarding school in Paris–until she meets Étienne St. Clair. Smart, charming, beautiful, Étienne has it all…including a serious girlfriend. 
But in the City of Light, wishes have a way of coming true. Will a year of romantic near-misses end with their long-awaited French kiss?
"For the two of us, home isn't a place. It is a person. And we are finally home."

 
Sometimes I sit down and I want a fluffy contemporary novel that's easy to read and will surely make me feel good, even if it's a little bit ridiculous and far from reality. Sometimes they make me so super duper happy and become some of my all time favorite books!! And sometimes…they don't.
Anna and the French Kiss opens up with high school senior Anna being forced to move to Paris, France and attend the SOAP (School of America in Paris). This is a complete TRAGEDY because despite getting the once in a lifetime experience to live in a foreign country (in arguably the most romantic city in the world, might I add), meet new people, gain insight on a new culture, not have to work, and STILL get an education in English with Americans, Anna has to move away from her BFF and her crush and at her work.
So once poor little Anna moves to SOAP we get to see her personality, which comes out in her interactions with others. First of all, her voice comes across as super immature; she reads like a 12 year old (and she's supposed to be 17?). She is completely boy crazy, self absorbed and just…immature. This book sounded like a middle schooler's diary.
But don't worry, Anna isn't the only annoying person we find in SOAP! With only 100 total students, SOAP still manages to have every single high school cliche in the book. We have Amanda, the mean girl who speaks with italics in all her sentences! As far as I can tell, her only personality trait is being a b*tch (and the italics thing). She's not really an important part of the story though–she doesn't make Anna's life miserable or anything, only shows up every now and then for our healthy dose of girl on girl hate. We also have Dave, who seemed to be filling the role of nice guy who likes MC but she doesn't like him so she lowkey makes fun of him, but then he turns into slut shaming as*hole, so don't worry about the joking.
We also have Anna's whole gang of friends: Meredith, who is…kind of useless? Her role is lusting after St. Clair. Btw, he's hot. More on that later. Then there's the obligatory couple who are there so…so…so…? Unfortunately, I don't remember their names, or anything else about them. And…
And then we have Hottie McHottface, Ettienne St. Clair. First of all, his name MAJORLY annoyed me because 1) I don't even know how to pronounce it so I kind of read it like ettyyyriaojefklsa st claireeeeeish and 2) sometimes he was referred to as Etienne and sometimes as St. Clair and I was just like…WHICH IS IT???? His qualities include: being hot, having a British accent, being bilingual, being hot, being the crush of 99% of the SOAP girls, having daddy issues, being hot, and BEING A CHEATING AS*HOLE BOYFRIEND.
Now I'll admit. I do like fluffy contemporary romances done right–that's exactly what I was looking for when I read this one. So despite him seeming a little flat, I did appreciate his hotness (before we were beat on the head with it), Britishness, and sweetness. However, I canNOT appreciate how he treated his GIRLFRIEND, Ellie.
First of all, I'd like to point out that when we are introduced to Ellie, Anna pretty much hates her on the sole principal of her dating St. Clair. Like oh boy, she likes his guy, so his girlfriend has to be a b*tch. Luckily for Anna, she's not wrong! Ellie is a elitist, friend abandoning slut. She's everything that Anna isn't, which makes you wonder why exactly St. Clair was dating her in the first place. But anyways.
So St. Clair is emotionally and physically cheating on Ellie the whole year. Yes, he does admit this. He really likes Anna (for some reason that is beyond me), (view spoiler) while still dating Ellie. This alone is enough to make me hate St. Clair.
But what was EVEN WORSE was Anna's reaction to it!! Anna feels she has the right to be completely outraged that St. Clair goes to see Ellie when he and Ellie are dating!!! Never mind that he's emotionally cheating on Ellie, ANNA is the one who feels angry and cheated on even though she's the other girl and ELLIE isn't!!! (But I suppose it's because Ellie is a slut and a b*tch, right? Along with Amanda bringing her girl on girl hate, we gotta have some good wholesome slut shaming 🙂 )
As if that isn't enough, Anna has the nerve to be outraged at her best friend back home for dating her crush? She's basically dating a guy in a long term RELATIONSHIP but it's not okay for her friend to date the guy she ISN'T DATING and has just a CRUSH on?
This is middle school status drama right here. It's exhausting. It does fit though, since Anna reads like a middle schooler.
At the end of the day though, there were a couple of reasons I gave this 1.5 instead of 1 star. Namely: Paris. I love the descriptions of the city! And the food–food! Also, I do like how Anna is an aspiring film critic, and she runs a movie review blog similar to how I run a book review blog! And there definitely were moments of cuteness in this book 🙂
1.5 out of 5 Paris nighttime stars
note: why is it so much easier to write long rant review than positive reviews??