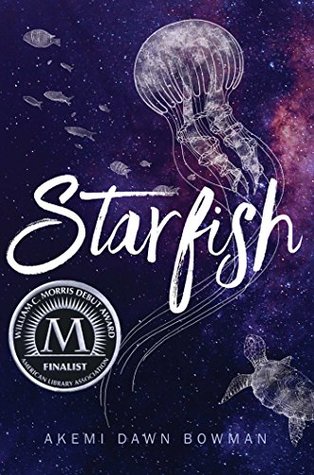 Title // Starfish
Author // Akemi Dawn Bowman
Publisher // Simon Pulse
Release Date // September 26, 2017
Rating // ★★★★★ (4.5)
Synopsis // A half-Japanese teen grapples with social anxiety and her narcissist mother in the wake of a crushing rejection from art school in this debut novel.
Kiko Himura has always had a hard time saying exactly what she's thinking. With a mother who makes her feel unremarkable and a half-Japanese heritage she doesn't quite understand, Kiko prefers to keep her head down, certain that once she makes it into her dream art school, Prism, her real life will begin. 
But then Kiko doesn't get into Prism, at the same time her abusive uncle moves back in with her family. So when she receives an invitation from her childhood friend to leave her small town and tour art schools on the west coast, Kiko jumps at the opportunity in spite of the anxieties and fears that attempt to hold her back. And now that she is finally free to be her own person outside the constricting walls of her home life, Kiko learns life-changing truths about herself, her past, and how to be brave.
This book was so beautiful…and I feel heard.
Other reviewers have mentioned that this book has incredible Asian representation, and I can only shout my agreement because it really really does. The main character, Kiko, has always known she's not pretty, she's exotic, boys don't date girls "like her," because she doesn't conform to the idealistic typical beauty standards of tall, blonde hair, blue eyes, and white. She's always known that the beautiful girls in magazines, the beautiful girls she ought to paint, don't look a thing like her. This is something I've certainly felt in my life, as I've gazed at all the pretty blonde girls splashed across the media and never thought that I could be considered as pretty as them. But throughout the course of the book, Kiko gradually learns her own self worth, gradually sees that typical western beauty standards aren't the only standards for being beautiful. And as she gradually become more and more exposed to her Asian heritage and culture, small things like eating mochi and boba and taking shoes off in a house, she grows so much and this just resonated with me so much!

So yeah, the Asian rep was great. But the reason this book REALLY stuck out to me and the reason I really really felt heard was the biracial rep. I'm half Taiwanese and half white, and Kiko is half Japanese and half white, and her experience was so so so similar to my own, and it's an experience that I've NEVER read in a book before. I can count on one hand the number of books with half Asian characters I've read, and of those all were written by full Asian or full white authors, and it was so clear that this ownvoices book captured my experience perfectly.
Living in Nebraska, which is predominantly white, Kiko always stands out for being Asian. But even though everyone reduces her to that, she knows that she's not even fully that, not even fully Asian, doesn't even have one culture that she can latch on to, and just exists in that in between space.
Also, there were those small moments that she had that I completely related to. Like her and her siblings discussing which one of them looks most white and most Asian? I've done that SO OFTEN (verdict: I look slightly more Asian than my brother. I have a more Asian skin coloring and eyes. But he did get the Asian lack of hair and shortless lmao). And that discussion with Jamie when he asks when in the past she'd like to live in and she replies that someone like her would basically never exist in the past? Yeah, I've had those existential crises where I've considered how not very long ago in the past my parents interracial marriage would be illegal.
I can't imagine feeling like I'll ever belong anywhere. I'm either too white, or too Asian, but never enough of either.
Everyone expects me to be Asian, not white, because of the way I look. But I'm only half Japanese–I'm the same amount of Asian as I am white. Why doesn't anyone ever call me half white?
Anyways. I could gush about this representation all day. But there are so many other great things about the book! Kiko also has anxiety, and from what I've seen from ownvoices reviewers, the representation is very well done. I don't have anxiety, but I'm extremely socially awkward and related A LOT to Kiko. The way that she always considers what she wants to say, but then ends up saying something else because she doesn't want to be confrontational or is too scared to really speak her mind really spoke to me. And the way she never went to any parties, and always wanted other people there for her to rely on them when talking to strangers I was like this is literally me.

This book and it's writing style was also so beautiful. The words I was reading felt very lyrical and dreamlike, and although sometimes fluffy prose annoys me, I thought it was absolutely beautiful and perfect here. The chapters all ended with descriptions of Kiko's art and what she was drawing, and I could perfectly picture, them, messy and raw and full of emotions and beautiful.
This was a very character driven novel, about Kiko's development, and the relationships she had with other characters really played into that and enhanced the book. Jamie, her love interest, was so sweet in how he supported her. I loved how naturally the romance seemed to flow into this book, where it didn't turn out to be completely centered on it and Kiko's personal growth was still the most important, but the romance just added to my love for this novel.
Of course, Kiko's mother was definitely not a wonderful character. She's horrible and abusive, and the reason that Kiko is so broken and unsure of herself and desperate to get away. Seeing her grow up, and move on from craving her mother's affection to becoming strong on her own was incredible.