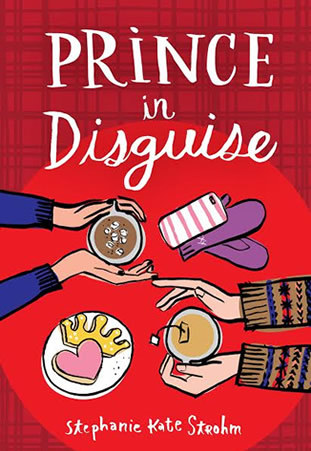 Life is real enough for Dylan—especially as the ordinary younger sister of Dusty, former Miss Mississippi and the most perfect, popular girl in Tupelo. But when Dusty wins the hand of the handsome Scottish laird-to-be Ronan on the TRC television network's crown jewel, Prince in Disguise, Dylan has to face a different kind of reality: reality TV.
As the camera crew whisks them off to Scotland to film the lead-up to the wedding, camera-shy Dylan is front and center as Dusty's maid of honor. The producers are full of surprises—including old family secrets, long-lost relatives, and a hostile future mother-in-law who thinks Dusty and Dylan's family isn't good enough for her only son. At least there's Jamie, an adorably bookish groomsman who might just be the perfect antidote to all Dylan's stress . . . if she just can keep TRC from turning her into the next reality show sensation.
This book was so cute ahh! It was totally just what I needed in these stressful days to get my mind off life and just chill and have fun reading this!!! Prince in Disguise is definitely not the most thought provoking or thrilling story–it's very predictable and cheesy–but it's so much fun and such a great guilty pleasure!!!
Dylan's sister Dusty is having a fairy tale wedding with a Scottish lord, and Dylan is getting pulled along for the ride as the maid of honor. But it's not just any royal wedding–it's a reality TV wedding! This poses some difficulties for Dylan who has never enjoyed the spotlight, especially since she's always been content to be in the shadow of her pageant princess sister–so things really aren't going that great–but when she ends up meeting a super cute groomsman, things definitely start looking up!
I read another book like this, Royals, earlier this year, and that one was pretty much trash, so I really didn't have very high hopes going into this one. Tbh, the low stakes probably make it better for me because it surpassed my low expectations instead of making me disappointed if I was hoping it would end up a 5 star read. So there were definitely some problems with it. First of all, the names, Dusty and Dylan, lowkey annoyed me because why. Just why. Then there's the whole convince of the romance, wherein it seems that there's only like 5 people hanging around the castle in preparation for the wedding, and two of them, Dylan and her love interest Jamie, just happen to be the same age, which was 6 or so years younger than the groom and the bride. Then there's the fact that they all seemed to act pretty young for their age, and I kept picturing them as younger kids despite the fact that they're my age??
Anyways, as I said, this was not a deep book, and looking beyond those bits of plot convenience or whatever, it was super cute! I really adored the romance between Dylan and Jamie! I was really happy that they're both 16 and had never been in a relationship because, ngl, it gets really annoying when there's like 12 year olds who have been in 209023480 relationships that's just not realistic (for most people anyways lol…or maybe that's just me because my idea of a perfect friday night is cozying up with Prince in Disguise instead of going to that football game we lost spectacularly…oh wait I'm getting off topic sorry). Their banter was so amazing: all those references!!
Jamie is such a great lovable bookish nerd and I was living for it! First of all, there's the british accent quoting poetry = very swoonable. But I would be fine without that too based off all the references to books (and disney movies!!!!! my fav <3) they made aosdjfk ahh #goals!
-Don't marry a man you just met! Don't they have Frozen in Scotland?
-There's your Mr. Darcy!
-I'm going to be even more jealous than Heathcliffe…
-Omg a prefect? Like Percy Weasley???
-So you lied about your name, Eugene?
Anyways, this is centered around reality TV and there was definitely no shortage of drama for it and I was totally living for it just like one of those reality TV viewers lol. This book would definitely get a 10/10 for its entertainment value, if not for its literary merit haha.
★★★★ / 5