Hello everyone if it's not abundantly clear by now, I have become a Percy Jackson Stan account. I have zero chill. I recently reread all 10 books (PJO and HOO), made mini reviews of all of them, compared them, and did May's book tag. I lost it and screamed for like a week straight (annoyed my whole family quarantined with me who had no choice but to put up with my craziness haha) when Uncle Rick announced a Disney+ adaptation!! The movies were so awful, we wanted it for ten years, and now we're finally getting it!
Well, I originally watched the first movie, The Lightning Thief, when it came out in 2010. TEN YEARS AGO that's crazy I can't believe time flies. I remember thinking it was absolutely awful I hated it so much. And when the sequel, The Sea of Monsters, came out a few years later, I didn't even see that one. And when they announced that the third movie was cancelled, my friends and I all cheered and celebrated.
Anyways, I remembered that the movies were awful, but considering it's been ten years, I'd forgotten just why they're so bad. All I remembered was that they aged up the characters which is terrible, but I basically forget (or maybe burned from my brain? who knows) the rest.
So fast forward to today, when I saw that the movie is now available on Disney Plus! Wellllll…. I admit, I was somewhat curious as to just how bad it was. And then… don't lie, you like negative reviews just as much as me… admit it. So I figured I might as well give it a rewatch to see just how bad it is, roast it, and then end with a bit of positivity on some things I want to see in the Disney+ adaptation, which I'm super hopeful for because, unlike the movies, Uncle Rick is involved!
I watched the movie in one tab, and had this post open in another tab and these are my unedited thoughts I wrote down as I was watching the movie!!
1. Why does Poseidon emerge from the water all giant like a weirdo? is he not a chill dude wearing a Bermuda shirt and fishing? the whole opening with the gods is so awkward and cringy
2. Percy just sitting underwater for so long is… does he not know he's not normal seven minutes?? 
3. Ms Dodds is the English teacher? literally the first chapter title of the book is  I accidentally vaporize my pre algebra teacher really shows how little they care. I get that it's to show his dyslexia but like… they could just have a pre algebra definition written on the board
4. The stupid voice of gods Poseidon in Percy's head is the cringiest stupidest thing ever ahahaha I don't remember it
5. they're all. so. old.
6. I accidnetly vaporize my pre algebra teacher = he doesn't vaporize her. makes sense
7. Why does Percy get the pen before he even gets to camp okay? he's supposed to kill the minotaur with his bare hands and his own horn the disrespect to my boy's strength
8. Wtf is the deal with grover not having "his horns?" what, is that like it's a wonderful life he's an angel? no. Also, the disrespect to Thalia he needs to redeem himself after failing to save her not some stupid nonsense about horns
9. Annabeth was supposed to tell him all about camp, after you drool when you sleep,not grover
10. I already said this but why does grover look like he's, like, 30?
11. ANNABETH. IS. BLONDE. ANNABETH. HAS. GREY. EYES. thank you, goodbye
12. They make it so obvious that Percy likes Annabeth right away. excuse me, my boy Percy is supposed to be an idiot who literally sees Aphrodite looking like Annabeth and hates the idea of her being a hunter and carries her photo around and sees him tether him to the mortal world in the river styx and is still too dense to realize he likes her
13. Why are there randomly centaurs at camp? the disrespect to the party ponies they do not hang out at camp half blood. (also isn't Chiron supposed to be a white horse?)
14. Grover chasing the "daughters of Aphrodite" lounging in bikinis on rocks while everyone else is training? hello, the disrespect piper would never they're not all vapid they can fight too
15. Percy's father built him that random ass cabin by the lake? oh, I suppose everyone else we saw throughout camp was just sleeping on the ground and only Percy gets a cabin. yes. that makes sense.
16. Also he was supposed to be claimed in capture the flag I guess everyone just knew he was Poseidon
17. I will concede, Logan Lerman is really cute. I like him as a 17 year old Percy, in, like, The Last Olympian and the Heroes of Olympus series. But he's still way too old for this movie. Also, this is my thoughts watching this as an 18 year old now so my thoughts do not matter because I did not like him as Percy when I was watching this when I was Percy's age and those are the thought that matter
18. Percy and Annabeth were supposed to be on the same team for capture the flag!! Also, the disrespect to the Supreme Lord Of The Bathroom I will not stand for this lack of toilets.
19. Okay Percy running away from the people fighting and tripping and falling is awkward and very him I like that and actually laughed (shocker right?)
20. Why does Annabeth take off her helmet to fight Percy? To show her long sleek sexy brown (-.-) hair because this was directed by a man and a girl (who is supposed to be 12??) has to look sexy in battle? the disrespect to my queen
21. The Poseidon voice of the gods in Percy's head sound so dumb ahhhh
22. Annabeth is supposed to fight with a knife not a sword. The disrespect to Luke's knife. FAMILY LUKE, you promised
23. Percy defeats a couple Ares kids and Annabeth and everyone just lets him take the flag? lmaooooo they're like ok this noob defeated 3 people and there's like 20 of us better stop trying
24. Why is Annabeth's actress like 30? Percy is way too old and Annabeth looks even way older than him
25. Why does Hades erupt in the campfire like a giant fire demon? so dumb. THE. GREEK. HADES. IS. NOT. CHRISTIAN. HELL. 
26. The disrespect to the oracle. they just sneak out? how is this going to set up Luke's betrayal?
27. PERSEPHONE'S PEARLS is the stupidest thing I have ever heard in my whole life. THE PEARLS WERE FROM POSIODEN. THEY ALREADY HAD A GOOD REASON FOR THEIR QUEST. WHY. JUST WHY
28. The random ass lady (is she mortal?) in Auntie Em's place is very random. also she just looks at Mesuda?? what an idiot
29. Aww an old iPod touch 3rd edition I had one of those in like 2012
30. Annabeth just stands there letting medusa annoy her and waiting for Percy to save her or something? the disrespect to my fierce knife fighting queen.
31. They're supposed to be TWELVE they CANT DRIVE I swear half the stakes of the whole quest are gone if they can just drive
32. I do think the idea of them carrying around the head of medusa is amusing, although not as amusing as Percy mailing it to the gods at olympus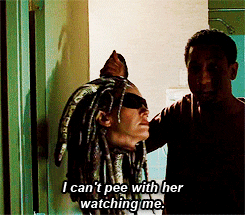 33. So Percy can just heal anyone else besides him with water? the disrespect to Apollo and Will Solace okay Poseidon is not a healer
34. Speaking of Percy and Annabeth just talking hanging out chill the disrespect to Seaweed Brain and Wise Girl all I want is Seaweed Brain and Wise Girl but apparently that's too much to ask
35. Wtf is this bs rule of the gods not seeing their children? No, it's not because of a stupid rule that lets them off the hook for being jerks. They don't not see their kids because of a dumb rule, it's because they're all jerks.
36. Oh no the voices of gods in their heads are coming back that's the stupidest thing to come out of these movies ahhh I hate it every time.
37. I do appreciate Grover eating the tin cans haha and I do think ugly Gabe has been portrayed well so far. provided, that's because he's awful and this movie is awful
38. Wtf does Annabeth just casually carry around tranquilizers? ummm… should I be concerned?
39. PERCY. CANT. WEAR. LUKES. FLYING. SHOES.
40. Also the fact that they're zooming (probably Skype or FaceTime or something in 2010) Luke amuses me very much in the 2020 quarantine zoom golden age. I am also mad though because demigods aren't supposed to use technology and also the disrespect to Iris goddess of rainbows. But also hahaha in this context I can't not laugh at Zoom they were Zooming before it was mainstream.
41. I am very mad that the chimera and St. Louis arch have been replaced by the parthenon and hydra. Just saying I want to see Percy jump off the arch and plummet 300 feet to his (not) death
42. Also the hydra is formed by 5 human looking janitors? the disrespect to monster donut #notmyhydra
43. Percy is an idiot. I thought everybody knew that when you cut off one hydra head two more grow back even if you don't know greek myths isn't that pretty basic?
44. Annabeth now has a random ass bow and arrows? okayyy… I guess she's a hunter now
45. Percy should not have control of his water powers like that!!! He literally didn't even know he was a demigod until like three days ago and he can already do this?? It's not supposed to be until Battle of the Labyrinth!!! character development? we don't know her
46. I admit, the giant stone hydra statue looks pretty cool
47. They have them eating in a diner but no ares? just rubbing salt in the wound huh
48. Does this movie have any sense of time? and geography? did they just… drive from Nashville, Tennessee, to Vegas, Nevada in like… an evening?
49. I admit the lotus casino actually looks pretty cool! with the Ferris wheel amusement park stuff. The gambling though= no bueno. and the lotus flower cookies? stupid. I do like Lady Gaga's Poker Face though
50. Percy sounds like a dolphin laughing. Maybe Mr D. who isn't even in this movie, should turn him into one and his mess would end
51. THE VOICE Of POSIDON is back ugh it's the cringes thing in this whole movie I hate it. also posioden is so useless telling Percy not to eat a flower after he's already had a bazillion and been there for 5 days
52. Haha I love how the guy asks Percy "what's a DVD" and that's how Percy realizes the guy is from the wrong era but it also dates this movie because now nobody uses DVDs anymore and I'm watching this on Disney+ streaming haha
53. I hate how they changed Grover from awkward kid trying to look out for the environment and redeem himself to like fckboy 
54. Do casinos normally leave the prize car keys in the car? because I feel like a lot of cars would be stolen this way
55. The disrespect to charon's Italian silk suits what is this ugly hoodie? Also, I miss Crusty and his water beds
56.  Hahaha grover mentions they're in a recession oh, to be young and naive and in the 2008 recession instead of the COVID 19 recession
57. THE. GREEK. HADES. IS. NOT. CHRISTIAN. HELL. Why does this whole place looks like Tartarus? What do you mean all lives end in suffering and tragedy? The disrespect for my heroes who reach Elysium!!! I am offended on many levels. Even the Fields of Aphosodel aren't like this. maybe even the fields of punishment aren't all this bad. No.
58. Did someone really call Annabeth Annie?
59. Hellhounds? The disrespect to Cerberus okay he's just a doggo who wants to play with Annabeth's red rubber ball
60. Why is Persephone like a sex crazed person. excuse me she's supposed to be happy goddess of flowers tired of her mom talking about cereal not like ooh… I haven't had a satyr… visit before *wink wink nudge nudge* it's weird now and who knows what I was thinking when I watched this when I was 10
61. Also why is Persephone in the underworld in the summer??? ummm….
62. "I'm already in hell" umm… no, YOU'RE NOT.
63. The disrespect to 10 ft Hades being the first god who looks like a god instead we have either fire monster or mick jagger
64. Why does the master bolt look like something from a middle school musical production? for the most powerful object in the universe… it's awfully anticlimactic
65. Sally was supposed to stay in the underworld the disrespect to queen sally she would never leave Grover there
66. Also… when you think of the fact that Persephone seems to be implying she wants to have sex with Grover and you think about the fact that he's supposed to be twelve… yeah, not great
67. The fact that the battle with Ares was left out is a CRIME
68. What was the point of Luke even giving Percy the shoes if they don't try to drag him to Tartarus?? Ph right, I guess Tartarus and Kronos don't matter if the whole underworld is basically tartarus
69. Oh right, they just take out the entire storyline of the titans. the whole overarching plot/conflice of the whole series is ignored. that makes sense
70. Why does Luke seem like a whiny git he's supposed to seem like a charismatic friend
71. Okay I get the shoes now and I'M APPALLED Percy is flying?? The disrespect to Jason Percy belongs in the water not the sky my gods can Zeus just blast them both now and end my agony.
72. WOULD IT HAVE BEEN SO HARD TO HAVE THEM FIGHT IN WATER OR AT LEAST ON LAND, NOT IN THE SKY
73. The scene with Percy fighting Luke and doing all the cool stuff with the water tanks actually looks very cool. Cool CGI for its time, and I like seeing my baby Percy use his power like that. HOWEVER in context I hate it because Percy is not supposed to be able to use his power like that until battle of the labyrinth and not that much in control of it until the last olympian!! character development? we don't know her
74. The disrespect to the Empire State Building elevator security dude
75. hAHHAHA the gods are supposed to have thrones and individual thrones to each of them and instead these little white chairs look like plastic chairs by the public pool
76. Poseidon stayed with Sally and Percy for 7 months? loll no he didn't he's not even that good he left before Percy was born
77. Why can't I take Poseidon seriously lmao he looks like an idiot in that outfit isn't he supposed to be good looking? I mean, Logan Lerman is cute why is Posioden so… not cute
78. That little mustache lmaooo his facial hair is like blonde iron man but it doesn't look cool on him
79. Omg I forgot about that stupid Grover earning his horns thing from the beginning hahahahaha its so stupid. Although tbh it's June but It's A Wonderful Life is a good movie and I like the angel earning his wings maybe that's what I should watch to remind myself that life isn't all crap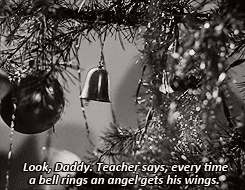 80. Oh my GODS they're still milking the Perseophone sex thing it's WEIRD it's GROSS pls STOP
81. ITS OVER OMG I MADE IT THROUGH I DID IT DOBBY IS A FREE ELF
Overall this movie was very bad. As a movie, it is bad and cringy and doesn't make much sense, but it's not the worst I guess. As a book to movie adaptation, it's AWFUL. I feel like the first 2/3 of it was meh to bad, and the last 1/3 after getting to the underworld was just terrible to worse to atrocious to just ahhh end it now. Although, I will admit that I had a bit of fun watching it because it's like so bad that it's good?? As in, I liked watching it so I could roast it and writing this post was fun. If I went in expecting a good movie instead of going in expecting to roast it I would not enjoy it one bit probably.
Anyways, that was fun, but I want to end this on a positive note so here's a shorter list of things I want to see in the actual good adaptation coming!
Seaweed Brain and Wise Girl!!
The fight with Percy vs Ares!
Annabeth and Percy's chariot together (with Tyson's help ofc!)
Nico di Angelo!! My baby ❤
The hunters of Artemis!
Percy and Annabeth both holding up the sky!
The dam joke hahahaha
Rachel Elizabeth Dare!
Silena leading Ares into battle!
A million Percabeth moments like the kiss before the volcano, Annabeth pulling Percy out of the Styx, Annabeth taking the knife for him, and of course, the best underwater kiss of all time ❤
Anyways, this was a very long post. If you enjoy long posts rambling about Percy Jackson,  check out my other PJO posts linked below! Will this be my last Percy Jackson post? Probably not knowing me. Stay tuned!
Let's Chat
What scenes and moments are you excited to see in the Disney+ adaptation? What parts did you hate in the original movies? Do you like this type of post or did I watch this movie for nothing lol. I'd love to chat in the comments below ❤