PS I STILL LOVE YOU IS OUT AND PS: I STILL LOVE IT!!!! 
I have a lot of thoughts. I liked it very very much. But not quite as much as the first one?
I have 2000+ words many thoughts below!!!
Below you will find:
A quick NON SPOILER summary. No spoilers for the book or movie
A movie review discussing what I liked and what I didn't! Spoilers for the movie, but not for the book.
A comparison of the movie to the book! Spoilers for both the movie and the book!
These spoilers are marked! Feel free to read any and whichever parts of this post you want to keep yourself from being spoiled!
NO SPOILERS
Quick Thoughts
Overall, this movie was super cute! I definitely did not like it as much as the first one, or as much as the book, but that was kind of to be expected since I preferred the first book by far to the second one. There were a few things cut from the book that I would have liked to see, but overall it was a pretty good adaptation of the book, be that good or bad.
It was super aesthetic just like the first one, and I was loving all the artsy shots, the color pallets, Lara Jean's outfits!! It was just so visually pleasing to watch!
I swear I love both Peter Kavinsky and John Ambrose McClaren. Honestly, when I first read the books two years ago at 16 I was #TeamPeter, but now, reread the books a week ago and watching the movie yesterday, I'm definitely #TeamJohnAmbrose.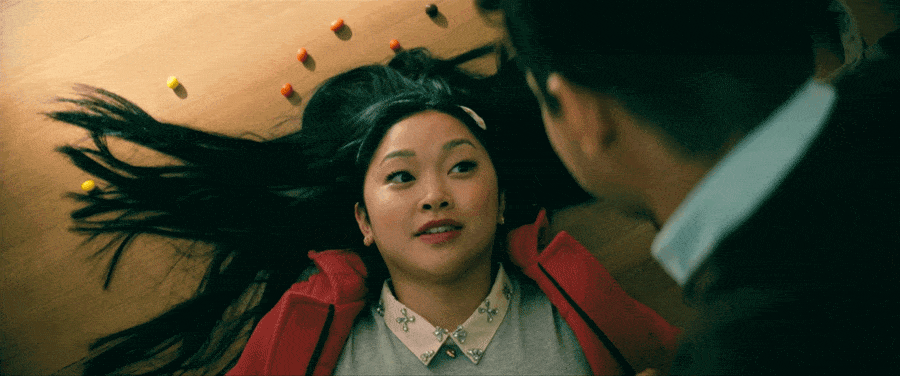 Point being, they both have super cute moments! Overall though, I just pretty much hate love triangles in general, and this movie, unfortunately, isn't an exception. I love both dudes, but I love John more. If you loved Peter from the first movie, this one tarnishes his golden boy status a bit. And there's a pretty good chance you'll be sad about the boy who she doesn't choose.
Still, she does go on adorable dates/have adorable moments with them both that I loved! I loved seeing moments with her friends, and her sisters and family!
The pacing felt a bit off to me, and I think this movie could have been a bit longer to be better, as the ending felt rather rushed. There were parts that annoyed me. Overall, it's not a favorite like the first one was, and I don't think it's exceptionally good or deep, but it was super cute and enjoyable to watch regardless! And I'll probably be rewatching a few times just because I love Lara Jean so much ❤
MOVIE SPOILERS ONLY
The Bad
Unfortunately, as I said, I don't think this was as good as the first, or as it could have been. One of my biggest problems was, I think, the pacing. It felt to me like the first part of this movie showed Lara Jean and Peter being cute, and then the next part showed Lara Jean and Peter not working and Lara Jean and John being cute, and then all of a sudden Peter shows up and Lara Jean picks him and that's that.
The problem is it felt like for a huge chunk of time before the ending, it showed Peter being a jerk. (#teamjohn). He knew about the hot tub and defended Gen, he was waiting for Gen in the hot tub, he was late to meeting with Lara Jean, he brought up John's stutter to make him feel uncomfortable, he was immature in taking back the necklace, etc. Meanwhile, John is being super cute and sweet (more on that below!). And then Lara Jean chooses Peter!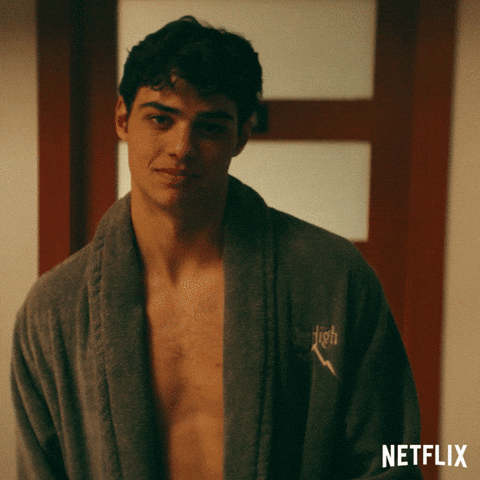 I knew this was coming from the book but it still felt jarring. I feel like they should have showed more Lara Jean and Peter reconciling, and given John Ambrose more closure. The part from the book where he gives a whole speech on how maybe now isn't our time, but one day it will be! And Lara Jean and Peter in the treehouse when Peter's like let's do it for real, no contract this time! The pacing of it just left me feeling like Lara Jean made the wrong choice.
Also I'm salty that Lara Jean picked John in general.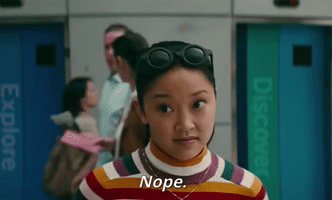 I just don't like love triangles. They always leave me feeling conflicted, never 100% happy.
I feel like Lara Jean was stolen some character and development, and instead of being herself, the amazing Lara Jean, she's just a generic girlfriend, and her personality becomes just deciding between two guys. I wouldn't say she really experiences much character growth.
I wish we had gotten more time with the sisters! I guess Margot can't be there (would have loved to see her in her hanbok from the book!), but maybe another FaceTime, and more time with Kitty!
Also the lip synching in the hall after the breakup was terrible and cringe and awful.
The Good
Okay, moving on from the bad because there is just SO MUCH GOOD!!!
The aesthetics were ON POINT. So many overhead scenes of food made my stomach growl. And Lara Jean is so aesthetic?? I was watching it with my friends, and I immediately noted to them that Lara Jean had more aesthetic cute outfits within the first thirty seconds than I wear in an entire year haha.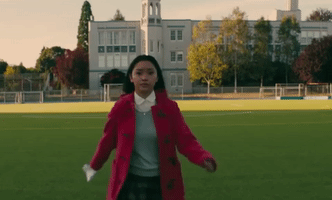 I was SWOONING at all the date scenes!! I'm Team John, but like, barely. I used to be Team Peter. Point being, I appreciate them both, and while I like John slightly better, I still like Peter. (okay, point being I'm terrible and clearly not loyal to either. what can I say? I like both my mans)
So I was very happy with all the date scenes!! The carnival!! The lanterns that reminded me so much of I See The Light from Tangled, aka one of the most romantic Disney scenes of all time!! Dancing in the Star Ball, the kiss in the snow!! Kissing on the track, where it all started!!!
I noted above that the ending felt rushed, but that doesn't mean my heart wasn't skipping a beat when Peter was like break my heart into a thousand pieces, do whatever you want with it, and he came to get her because she doesn't like driving in the snow, and their kiss!!
Major heart eyes.
JOHN AMBROSE MCCLAREN has my whole heart. I loved seeing him and Lara Jean, aslkdjf they're so nerdy and similar it's perfect!! Reading Harry Potter together in the tree house how amazing is that I wish something like that would happen to me. Or hanging out with the old folks on a Saturday calling out bingo numbers!! We're totally lame, but in a cool way!! And THE STAR BALL dancing in the snow is so romantic aoisdjfoiaskld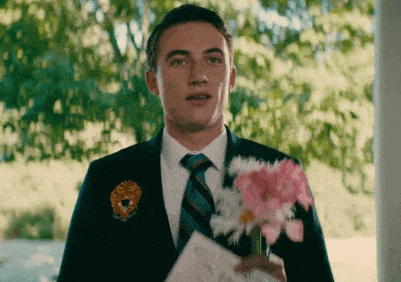 aosidjflasoidlkfjaosidk!
this is literally me Lara Jean is literally me I would much rather hang out with a friend calling out bingo numbers, bake delicious looking apple turnovers and cupcakes, put together a ball, than party but ugh Peter I guess.
(Speaking of that, this all the baking is so amazing!! There were two baking scenes, which is more than the one from the first movie, so I really liked how it showcased her baking love!!)
The piano scene!! Where he changed his name for her????? And the deviled egg french toast???
I am in love with John Ambrose Mcclaren. Just call me Kay Ambrose McClaren
I wish there was more family scenes, but I was still so happy with the ones there!! Kitty being as sassy as always is the best, and making a valentine for Trina I love. I loved the Fakesgiving!!
STORMY! That's all I have to say. I love Stormy, and the movie captured her perfectly!!
THE REP WAS AMAZING AS ALWAYS!! I loved getting to see the girls in their traditional Korean hanboks; the Korean and Asian rep was amazing as always! And seeing their white dad there with them and all their Korean relatives was super cool as a biracial person whose always felt a bit off place at gatherings with my Asian relatives; yesss for celebrating diversity and multiracial families, and sharing that on screen!!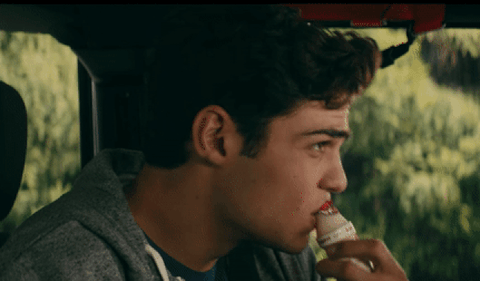 BOOK AND MOVIE SPOILERS
Book Comparison
Since this is a book blog and I first fell in love with the book, I have to talk about how it measures up!!
It's not as good. Obviously. The book is almost always better, and this is no exception. But it still comes close!!
I feel like overall, it really captured the spirit of the book. The lighthearted, happiness. Overall, the book made me feel all sorts of fluffy and happy, and this movie absolutely did too.
They kept a lot of pivotal plot points, and overall, it stuck fairly close to the book, which I really appreciated. I loved seeing scenes brought to life, like the necklace, the Korean new year, the treehouse time capsule party, and just hanging out at Bellview with Stormy!
There were some things cut that I wish had made it in. For one thing, the game of assassins! That was such a big important point in the book, so it felt like a lot was missing by cutting it! It showed a lot of how Peter always chose Gen, it was the final straw in breaking them up, it was how Lara Jean discovered Gen and Peter together (not Chris), and it showed how Lara Jean discovered Gen's secret (it definitely seems weird that Gen would tell Lara Jean, but I guess her dad wasn't having an affair with someone half his age in the movie).
There were a few mentions of Josh in the book although he wasn't a main character anymore, and since they made him nicer and a friend to Lara Jean in the movie instead of a jerk who kissed her like the book, I would have liked to see him, or at least mention him instead of pretending he didn't exist.
Why is John Ambrose not Stormy's grandson anymore? Stormy was totally trying to get them together in the book and I would have loved to see that. I also wanted to see Jamie Fox Pickle!! And John Ambrose and Lara Jean writing letters/being pen pals.
John Ambrose and Lara Jean spending the night at Bellview, sneaking out to play in the snow!! And–THE USO PARTY!!! I wanted that more than life I swear. I wanted to see Lara Jean's cinnamon roll, I NEEDED to see John Ambrose roll up in a full on WWII outfit in a red convertible, and lift Lara Jean off her feet as they were dancing. I needed to see Lara Jean run into his convertible in front of Peter and Gen, and them kiss at a red light. The Star Ball was still great and I still loved it (kissing in the snow is very romantic), but man did I want to see that USO party it was like my favorite part of the book.
So I'm sad about these cuts, and I wanted to see them, but for the most part, they didn't make the movie bad, it just could have been better, but I understand it's not possible to put everything from a book in a movie. There were a couple things new from the movie that weren't in the book, like the French toast/deviled egg, Fakesgiving, and that dissection scene where Peter is a total adorable wimp when dissecting ahahaha that I really loved seeing though!!
Overall, it was a pretty good adaptation, that really kept the heart of the movie ❤
If you liked this post, consider reading one of my many other posts I've written about To All The Boys ❤

Let's Chat
Did you like PS I Still Love You? Did you prefer the book or the movie? Are you Team Peter or Team John Ambrose? I'd love to chat in the comments below ❤