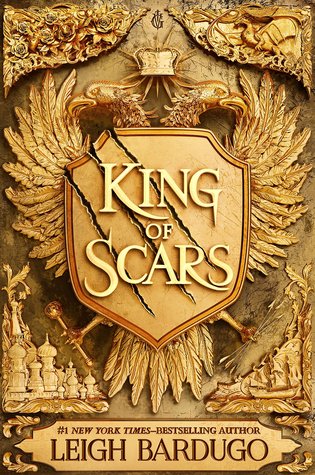 Title // King of Scars
Author // Leigh Bardugo
Publisher // Imprint/Macmillan
Publication Date // January 29, 2019
Synopsis // Nikolai Lantsov has always had a gift for the impossible. No one knows what he endured in his country's bloody civil war—and he intends to keep it that way. Now, as enemies gather at his weakened borders, the young king must find a way to refill Ravka's coffers, forge new alliances, and stop a rising threat to the once-great Grisha Army.
Yet with every day a dark magic within him grows stronger, threatening to destroy all he has built. With the help of a young monk and a legendary Grisha Squaller, Nikolai will journey to the places in Ravka where the deepest magic survives to vanquish the terrible legacy inside him. He will risk everything to save his country and himself. But some secrets aren't meant to stay buried—and some wounds aren't meant to heal. 
My Rating: ★★★★☆ (3.5)
So everyone in the universe read this book back when it came out in January and I had a lovely library wait and by now probably everyone has already read it and moved on to the next thing and as usual I am behind the curve but that will not stop me from shouting into the abyss about it! About the goods and the bads, which were mostly goods, and overall the wild ride that this book was because this sucker had a lot to live up to coming after the SoC books which are the absolute best.
Reading this book was kind of strange. In terms of plot, it felt like a direct follow up/sequel to the Grisha trilogy. I liked those books, but definitely didn't love them and definitely was aware of their problems, so I wasn't too thrilled to be back there, especially since both this and those are stories about royalty/politics/chosen ones/kings and stuff like that, whereas Six of Crows is so totally different about criminals and heists, and it came out more recently so King of Scars was kind of like stepping over those books and returning from this amazingness to the less amazing royal world.
It was also kind of strange because this book really follows up that trilogy so closely, with the same setting and most of the same main characters, but that book was told from first person POV, and this book is told from third person POV, and also just a much better writing style. Not bad, for sure (obviously better writing is better), but just strange to be back in the same story told from such a different style.
This book also featured three main characters–Nikolai, Zoya, and Nina–in what felt like two completely different plots and stories. While Nikolai and Zoya are always together, in Os Alta or elsewhere in Ravka, Nina is always away from them up on a mission for Nikolai in Fjerda. Nina never shares any scenes with Nikolai or Zoya, and was so disconnected from them that at times it felt like I was reading two separate novels: the Grisha sequel with Nikolai and Zoya, and the Six of Crows sequel with Nina, and obviously both of those two series are very different so it was odd having them crammed together in the same novel.
I enjoyed both of them immensely, but together it was strange and a bit disjointing to read, especially when I was really getting into one story and then it would flip to a different character and I would be like…wait what? Hopefully, probably the two will come together in the sequel, but in this particular book, I wasn't a huge fan.
Enough of that though, let's talk about what I loved! There was a lot in this book that I absolutely loved. What really made SOC stand out was the incredible characters, and I think Bardugo can really write books with phenomenal characters within crazy high stakes plots, so I would say both character and plot driven, which is amazing.
—Nikolai is amazing of course. I love his cocky, self assured manor, and how he's always so sure of himself and jokes around on the outside, while on the inside he's struggling with a monster (literally) and is just in need of our love. I also loved seeing how he struggled with trying to run the kingdom and bring his people the peace they wanted and deserved, and had to choose between making decisions that benefited him, or them.
—Zoya is seriously one of the best characters in the Grishaverse. From her initial introduction in Shadow and Bone, she had so much development, and I loved getting to see her backstory in this one and really learn about her thoughts and motivations. She was also so strong and badass, and so fierce and unapologetically herself
—Nina just had my heart! The ending of SOC was so heartbreaking, and here we really get character development as we see her grieve and try to move on with her life. She became so strong (well, she already was strong, so here she's stronger!), and I loved seeing her use her post parem power.
The plot, and everything that was happening to Ravka, was crazy and really drew me in. This book really explored post war, and showed that not everything was all sunshine and rainbows after the end of the Grisha trilogy. It showed the hardships that come from recovery, and the struggles the people were going through, and the struggles that Nikolai and co had to go through to try and fix it! There was so much bad stuff happening and I just wanted to give them a hug and make it better lmao.
The ending was shocking and I was not really a fan but we'll see; depending on what happens in the next book I could come around to liking it, or I could really hate it.