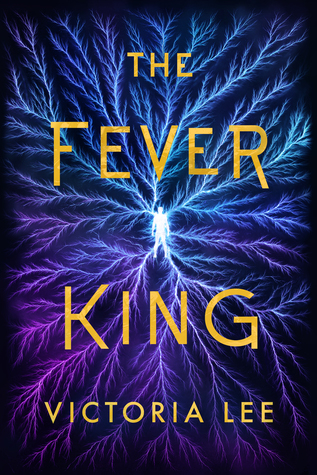 Title // The Fever King
Author // Victoria Lee
Publisher // Skyscape
Publication Date // March 1, 2019
Synopsis // In the former United States, sixteen-year-old Noam Álvaro wakes up in a hospital bed, the sole survivor of the viral magic that killed his family and made him a technopath. His ability to control technology attracts the attention of the minister of defense and thrusts him into the magical elite of the nation of Carolinia.
The son of undocumented immigrants, Noam has spent his life fighting for the rights of refugees fleeing magical outbreaks—refugees Carolinia routinely deports with vicious efficiency. Sensing a way to make change, Noam accepts the minister's offer to teach him the science behind his magic, secretly planning to use it against the government. But then he meets the minister's son—cruel, dangerous, and achingly beautiful—and the way forward becomes less clear.
Caught between his purpose and his heart, Noam must decide who he can trust and how far he's willing to go in pursuit of the greater good
My Rating: ★★★★☆
Soooo…this book really messed with my mind. I'm still reeling–what just happened?? Between the incredible setting and science fantasy premise, complex and lovable characters, and crazy twisty plot, I'm just really shook.
The science fantasy premise of this was really incredible and unique. And science fantasy is basically the only way I can think of to describe it, and the way the two blend together is pretty amazing. There are magic outbreaks in the world that kill most, but the few who don't get killed by it develop magic powers such as telepathy, illusion magic, and technopathy, which is basically being able to control technology with only your mind and is honestly one of the absolute coolest ideas for magic/a superpower I've ever read.
But what's so cool and unique is that these powers are absolutely rooted in science! You need to understand algebra, physics, mechanics, and all sorts of hard sciences to be able to create magic! The descriptions of this were so interesting (even if a few of them went over my head haha)! And so these kids were total nerds and it was great because the nerd life is the only life worth living tbh.
Speaking of these nerdy kids, I absolutely loved the characters! They were all so fleshed out and complex, and I was in the dark, trying to figure out what exactly their motives were, and if they were good or bad, for the whole time I was reading the book. The romance of course was absolutely amazing: slow burn, enemies to friends to lovers, and basically everything I ever want in a romance.
Leher in particular was so complex, the 100+ year old who became king at age 20 before abdicating his crown and slowly toying with politics from behind the scenes. Then there was Dara, who was of course my absolute favorite who seems so hard on the outside at first, but the more we find out about him, the more we realize that he's just a smol tortured cinnamon roll trying his best who must be protected at all costs, even though he's so fierce and badass he doesn't really need protecting. Noam, the main character, could be a little annoyingly naive at times, but for the most part, I loved seeing his compassion for refugees and determination to do what was right, even as that became blurred. (And such great representation too: Noam is Latino, bisexual, and Jewish!!)
This book really played with good and evil, right and wrong, in a sort of mind bendy way. It got more and more morally grey, and really showed the casualties involved in trying to incite a revolution or any sort of change–showed that bad things have to happen for the greater good. (Honestly it kind of reminded me of Crime and Punishment towards the end, with characters wondering just what sort of wrongs they can commit to help more people, and how that affects the people who commit the wrongs, and I'm saying this in a completely good way which is weird because I don't typically compliment classics but just go with it). I just was really liking the dark grittiness.
This book definitely feels very mature–more older YA. Even though the characters are around 16, they act/feel much older, with descriptions of sex, drinking/getting drunk, abuse, and graphic deaths. I personally probably wouldn't have felt comfortable reading this book until I was around 16. (The author has full content warnings on her website if you're concerned).

One complaint I have is that I found the beginning to be rather boring. I didn't really get fully invested in this book until about half way through, especially since there doesn't seem to be much action in the beginning, but a lot of info dumping on the world. The pace definitely picks up though and I couldn't turn pages quickly enough at the ending!!