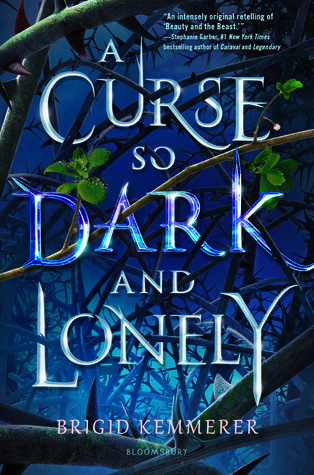 Title // A Curse So Dark And Lonely
Author // Brigid Kemmerer
Publisher // Bloomsberry YA
Publication Date // January 29th, 2019
My Rating // ★★★★★
Synopsis // Fall in love, break the curse.
Cursed by a powerful enchantress to repeat the autumn of his eighteenth year, Prince Rhen, the heir of Emberfall, thought he could be saved easily if a girl fell for him. But that was before he turned into a vicious beast hell-bent on destruction. Before he destroyed his castle, his family, and every last shred of hope.
Nothing has ever been easy for Harper. With her father long gone, her mother dying, and her brother constantly underestimating her because of her cerebral palsy, Harper learned to be tough enough to survive. When she tries to save a stranger on the streets of Washington, DC, she's pulled into a magical world.
Break the curse, save the kingdom.
Harper doesn't know where she is or what to believe. A prince? A curse? A monster? As she spends time with Rhen in this enchanted land, she begins to understand what's at stake. And as Rhen realizes Harper is not just another girl to charm, his hope comes flooding back. But powerful forces are standing against Emberfall . . . and it will take more than a broken curse to save Harper, Rhen, and his people from utter ruin.
So I've read a lot of Beauty and the Beast retellings. I think that at this point, everyone has. And after a while, they can really start to feel repetitive. But this book…this book took Beauty and the Beast and brought it to a whole new level of amazing. I took the beloved tale and spun it in such a complex way that it still resembled the original while taking on a unique life of its own. And overall, this book was absolutely, totally, AMAZING.
I loved how dark and gritty this book was! Definitely among the darker retellings I've read, more akin to the old Grimm stories rather than the cheesy Disney versions. It definitely didn't shy away from death and destruction, and a truly horrible curse, as well as, well, a truly beastly beast.
I absolutely adored the world building and unique setting. This book is set in an immersive high fantasy kingdom, with royalty and magic and monsters, yet the protagonist Harper comes from current day Washington DC. This made for such a fun juxtaposition! Although the vast majority of the story takes place in the fantasy kingdom and there are only a few chapters in DC, it was so fun to see Harper experience it for the first time through the lens that some of us readers might. The fantasy setting is amazing, and I loved descriptions of the magic castle, the kingdom, and just everything.
Harper was such a fierce amazing character and I just loved her! She comes into the new world fighting, literally fighting, and is about the opposite of any Belle or pretty girl who just sits around and swoons for a prince. She has such a no nonsense take on the idea of falling in love with her captor, or anyone just because it's demanded of her. And most of all, she cares so fiercely about everything important to her; she wants to help save her family back home and never forgets about them, she wants to help Rhen even though she isn't down for the idea of falling in love, and she goes into so much danger to protect the members of a kingdom that she was taken to against her will and isn't even hers.
Harper also has cerebral palsy, which I've never read about in a book before, so yay for this representation! It causes her to always walk with a limp, which often causes people to mock her and underestimate her, and she's so fierce when she is like, I'm more than my disability, and don't underestimate you because I can crush you even with a limp. Anyways, just add that to the list of reasons I love her.
I loved Rhen, the "beast" as well! He's such a sad tortured character, with way too much guilt on his shoulders and I just wanted to reach through the book and give him a hug. At the beginning, he's basically given up and just sits around wallowing in his despair, but throughout the book and his interactions with Harper, we get to see him gain motivation and fresh determination again, to break the curse and to save his kingdom, and I was so proud of my little boi.
The romance the romance the romance!! Of course we can't have a Beauty and the Beast retelling without a little romance and I just adored it here! It's basically a slow burn angsty enemies to friends to lovers which is basically my all time favorite type of romance! It definitely didn't overwhelm the story though, and was more of a side plot to everything else going on with the curse and the imminent destruction and invasion of the falling apart kingdom, so the hints of it that were thrown in were in just the perfect amount.