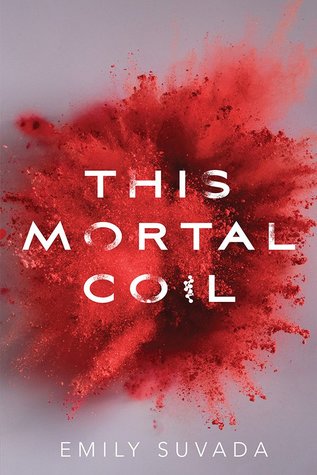 Title // This Mortal Coil
Author // Emily Suvada
Publisher // Simon Pulse
Publication Date // November 7th, 2017
My Rating // ★★★★★
Synopsis // Catarina Agatta is a hacker. She can cripple mainframes and crash through firewalls, but that's not what makes her special. In Cat's world, people are implanted with technology to recode their DNA, allowing them to change their bodies in any way they want. And Cat happens to be a gene-hacking genius.
That's no surprise, since Cat's father is Dr. Lachlan Agatta, a legendary geneticist who may be the last hope for defeating a plague that has brought humanity to the brink of extinction. But during the outbreak, Lachlan was kidnapped by a shadowy organization called Cartaxus, leaving Cat to survive the last two years on her own.
When a Cartaxus soldier, Cole, arrives with news that her father has been killed, Cat's instincts tell her it's just another Cartaxus lie. But Cole also brings a message: before Lachlan died, he managed to create a vaccine, and Cole needs Cat's help to release it and save the human race.
Now Cat must decide who she can trust: The soldier with secrets of his own? The father who made her promise to hide from Cartaxus at all costs? In a world where nature itself can be rewritten, how much can she even trust herself?
This book was so unique and so sciency and so crazy and so intense and just overall I have a lot of feelings and I'm not sure I'm 100% okay right now? It was wild. At first glance, this kind of seems like just another of the hoards of dystopian YA books, the crazy that Hunger Games kicked off, but kind of faded off into oblivion and everyone is very annoyed with and over at the moment. But it's so far from that. The world crafted is absolutely incredible, and I was so hooked and drawn in for every single inch of the story.
This world was definitely dystopian, but it wasn't just a world that kind of glossed over the end of the world thing, but rather it really dives in to the nitty gritty science of the world. In a world with intensely complex technology that allows people to change their DNA and isolate the genes that make up their appearance, abilities, and even perhaps personality, people are refugees from a deadly plague that causes them to simply, well, explode. In order to avoid catching the plague and exploding and contaminating anyone within the radius (side note: apoptosis be like, am I a joke to you lmaooo), people are overcome with a ferocious urge to eat diseased human flesh to grant themselves immunity…for the time being.
Honestly, I could just gush all day about the amazing science and technology in this book. I'm an absolutely sucker for DNA and genetics, and obviously I love reading, so this book that basically combined two of my greatest interests was an absolute gem. Emily Suvada clearly did her research (or just by looking at her website and credentials she's just an absolute STEM genius), and I loved the descriptions of how everything works. For example, it's explained that technology can't actually change someone's DNA sequences, but rather creates proteins that wrap around it to mask inherited genes with desired genes. And an incredible hacker shows off by turning a single section of his hair white, because changing the the color all of someone's hair would be easy, but isolating a single section is so much harder.
With this premise of genetic hacking being so prevalent, the book brings up many issues of morality that really stuck out with me. For example, people have to wonder about the ethics such advanced technology that has the power to change and even save lives being patented, of someone keeping creative control of something they've worked hard to code and create and making profit off it, or setting it free to the world where it could help so many. Then there's the question of who exactly has control over these genetic modifications–should the government be allowed to regulate which apps and programs a person can use and download if they know what is best for them and can keep it regulated, and is that worth giving up freedom over your body for? Can the government force you to take a vaccine or modify your DNA to save you and others, even if you're skeptical? And how about doing experiments on humans, and using them like lab rats? It seems horribly unethical, taking away their very humanity, but what if using one person as a lab rat can save millions of others?
This book is very obviously science fiction, but technology is becoming more and more advanced, and there are aspects of this book that seems to mirror aspects of our current world, so I was so thoroughly intrigued by this book, and definitely pondering these questions along with the main characters all the way through.
The fact that the main character, Cat Agatta, is an incredibly accomplished gene hacker just makes this premise 1000x better. Strong, empowered, badass girls in STEM? Yes please! It was so cool to see Cat working and hacking, getting lost in the technology, like the way she so casually talked about sequencing pigeon DNA and converting it to binary, then ASCII, then letters, or downloading programs and viruses into peoples DNA. It was so clear how fierce she was and how much she loved science and technology, and I was living for it! Also, can we talk about how great her name is? Cat Agatta–literally made up of DNA bases, and grouped together in sets of three so they could be codons too (note: histidine, arginine, leucine). Beyond just her sciencey self, Cat is such a great character. She's fierce and determined to do what's right, to try to help people, help the world, even when it keeps screwing her over and she doesn't even know what's right.
I enjoyed the other cast of characters as well! I especially love Cole, how he could be both strong and fierce, yet secretly sweet and soft on the inside, and how tortured he was by the world. Dax and Cat made such a great team as they worked together to code and hack, and I loved Leoben's friendship. Overall, I'd say that these few were such a cool squad, by the ending when they were all together at least haha.
And okay, can we just talk about all the twists and turns that I absolutely did not see coming?? This book messes you up and you're so confused and thrilled, and then just when you think you have it figured out, here comes another bombshell to shake up your whole world!! The ending was absolutely crazy, and I certainly didn't anticipate it, and now I'm still recovering to try and tell just what the heck happened!! I definitely can't wait to pick up the sequel, like, yesterday.