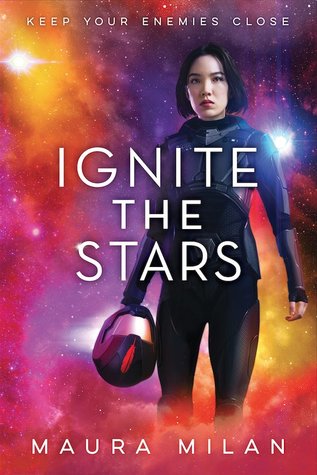 Title // Ignite The Stars
Author // Maura Milan
Publisher // Albert Whitman & Company
Publication Date // September 4th, 2018
My Rating //★★★★★ (4.5)
Synopsis // Everyone in the universe knows his name. Everyone in the universe fears him. But no one realizes that notorious outlaw Ia Cocha is a seventeen-year-old girl.
A criminal mastermind and unrivaled pilot, Ia has spent her life terrorizing the Olympus Commonwealth, the imperialist nation that destroyed her home. When the Commonwealth captures her and her true identity is exposed, they see Ia's age and talent as an opportunity: by forcing her to serve them, they will prove that no one is beyond their control.
Soon, Ia is trapped at the Commonwealth's military academy, desperately plotting her escape. But new acquaintances—including Brinn, a seemingly average student with a closely-held secret, and their charming Flight Master, Knives—cause Ia to question her own alliances. Can she find a way to escape the Commonwealth's clutches before these bonds deepen?
Before I even start the review, I think I need to have a moment of cover appreciation. I mean, have you seen the cover? The colors? It's g o r g e o u s!! I swear I can't even articulate how much I love this beautiful colored cover. But okay, enough of that. Let's talk about the book. The book that was absolutely phenomenal.
Lately, it's probably not a trend and just me being behind, but I've been reading more and more books set in space and I'm loving it! This book was no exception, and the setting and world building were phenomenal! I loved the concepts of people flying spaceships around, battling each other from these ships, dodging asteroids while flying, immigrating to and from different planets, living in different star systems, and just basically the whole thing.
(Side note: is anyone else lowkey annoyed with changing curse words in novels, particularly futuristic ones? I've read it a few times, and it just makes the flow of sentences sound so awkward? I mean, I get in the future the language would change, but it seems so weird that only the curse words and nothing else, not the syntax or slang or common words would change, just the curses? I just couldn't take them seriously when they were like mung this and that lmao.)
It felt like there was some subtle political commentary in here, particularly with the mention of the Tawnies and other races that people didn't like. There was talk of trying to throw migrant refugees, such as Tawnies, out of the Commonwealth, manipulation and propaganda of the media in order to create a specific mindset, and overall just the immense forestation of hate. It was subtle, and well integrated in the book, but parts of it I felt were very powerful and relevant to today, and really made this book powerful.
I also really liked the immediate setting of the sort of space force academy. It was kind of fun easy YA, with moments where students were trying to pass tests, hanging out with each other on breaks, and dorming together. But at the same time, we're dealing with Ia, a dangerous criminal who is acutely aware of the world beyond their small school, and many of the other characters having links back home to everything happening with politics and battles, and I found there to be a nice contrast between the lighter and heavier content.
I initially thought that the book would just be about Ia, but it's actually split POV between three characters, and honestly, I loved them all.
–Ia, the Blood Wolf, was kind of giving me Kaz Brekker but female and in space vibes and obviously anything that gives me Kaz Brekker vibes is an 11/10. She's ruthless, and not afraid to knock people out, break a few fingers, or even kill and slaughter people to achieve her means. She's cunning and resourceful, and knows how to play and manipulate people. Yet at the same time it's clear how much she cares about her friends, and is willing to sacrifice herself for them, and just overall what she believes in. She's definitely kind of morally grey; she does bad things, but she does them for good cause, sooo… I loved seeing her character evolve and grow as she starts to see the other side of things, and realize that the world isn't as black and white as she used to think of it.
–If Ia had good character development, Brinn's was incredible! She's half Tawnie, a race of blue haired geniuses who are discriminated against and hated, who feels she must always hide her true identity and play herself down in order to fit in with everyone else. I loved seeing her start to change, and to accept herself for who she really is. And of course I'm always looking for multiracial representation, and I loved seeing Brinn struggle with being a halfie, feeling like one half of her was more important than the other instead of embracing her identity of being both.
–I was lowkey least interested in Knives, but he was still a pretty good character (although I didn't fall in love with him the way I love Ia and Brinn!!). He's a bit of a smol bean, with a famous and powerful father and other people pushing him to accept a job filled with glory instead of his small training job, just trying to lie low and hope people don't judge him for his family, and struggling with a tragic background on top of that. Also, his and Ia's romance was super slow burn and amazing and I was so quickly in love with the both of them together!