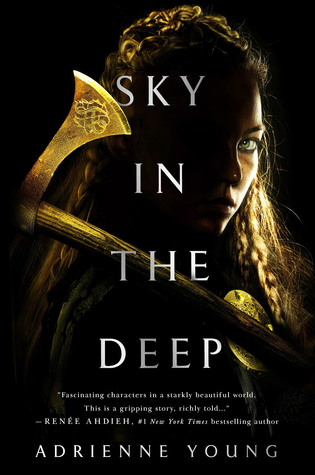 Title // Sky In The Deep
Author // Adrienne Young
Publisher // Wednesday Books
Publication Date // April 24, 2018
My Rating // ★★★★☆
Synopsis // Raised to be a warrior, seventeen-year-old Eelyn fights alongside her Aska clansmen in an ancient rivalry against the Riki clan. Her life is brutal but simple: fight and survive. Until the day she sees the impossible on the battlefield—her brother, fighting with the enemy—the brother she watched die five years ago.
Faced with her brother's betrayal, she must survive the winter in the mountains with the Riki, in a village where every neighbor is an enemy, every battle scar possibly one she delivered. But when the Riki village is raided by a ruthless clan thought to be a legend, Eelyn is even more desperate to get back to her beloved family.
She is given no choice but to trust Fiske, her brother's friend, who sees her as a threat. They must do the impossible: unite the clans to fight together, or risk being slaughtered one by one. Driven by a love for her clan and her growing love for Fiske, Eelyn must confront her own definition of loyalty and family while daring to put her faith in the people she's spent her life hating.
Honestly, any book that starts with a viking warrior girl charging into battle with a sword in one hand and an axe in the other hand is bound to be good. Right?? That's what I thought when I read the first chapter of this book and I was like WHOA and then I continued reading and I continued thinking WHOA and basically I have now decided that that shall sum up my overall thoughts of this book.
Eelyn used to fight alongside her brother, but that ended when she saw him die five years ago. Except–surprise!!!–all of a sudden she sees him again, fighting for the enemy this time, which basically throws everything she knows into question and changes her entire life. There are so many questions she has and I had all of them too!! What really happened, how is this possible, who is in the right here, (is my whole life a lie???), and so many questions really had me on edge turning pages as quickly as possible as this lush fantasy developed before my eyes.
I love how this book really questioned right and wrong, and tradition over logic. Eelyn is Aska, and her whole life and family and entire history is based around the Aska feud with the Riki. The two clans go to fight each other, murdering countless warriors every five years (also side note Eelyn doesn't even know how many people she's killed and does some pretty ruthless fighting and I am totally here for it), and they do it because it's what they do, it's what's always been done and nobody questions it. But this book allows us to see both sides, the inner workings and daily lives of both clans, and really question with Eelyn what makes them fight and kill the "enemy," and if they're really so bad after all.
Speaking of all that, the world building is absolutely phenomenal. Did anyone say vikings? Sign me up! I could really imagine the world, the clans and their villages on the mountain and by the fjord, fighting and worshiping together. I love how the history of the feud, as well as their mythology and religions were slowly shown to really piece the story together.
All of the characters are so complex and three dimensional. At first, it's only said that Aska is good and Riki is bad, but as the story develops, Eelyn and we readers really get to see other sides of people. Some people, particularly members of the enemy, do terrible, humiliating, cruel things to Eelyn…but then they do some redeeming things to her or other characters, and everyone had another dimension that was gradually developed.
Eelyn was just such a great character. She's not afraid to run into battle headfirst and get right into the nitty gritty action; it's where she belongs. And at the same time she has such a big heart and really cares about her friends and family and is determined to protect them. She's also fiercely loyal to what she believes in and what she's grown up with, yet opens up to new ideas and change, particularly as she develops through the story.
There were such amazing family themes in this book! The whole plot is initiated when Eelyn goes after her brother, who means the world to her. Yet there's also talk of found family, of brothers not by blood, but by love, and how people can love and be a part of more than one family, love new people but still remember old ones.
That romance was amazing!! Hate to love, I repeat, hate to love!!! And it's actual really well done: not like some of those wimpy contemporary mild dislike to love, but rather I'm literally seconds away from killing you and will shoot you and leave you here to die, to grudging acceptance, to friendship, to love, and I was so there for every second of it! It's also a forbidden love at the same time, between members of enemy clans, and almost kind of gave me Romeo and Juliet vibes?? Anyways, both characters were so strong and really developed and grew together and aoisjfdlk.
My one problem with this book is that I would say the pacing was a bit off. The beginning had phenomenal action, but then in the middle it got kind of boring and we had pages and pages of just picking flowers and cleaning, and then the action in the ending was epic, but it felt super rushed like it didn't have the time to properly develop.
Overall, though, this book was absolutely fantastic and I highly recommend giving it a read!