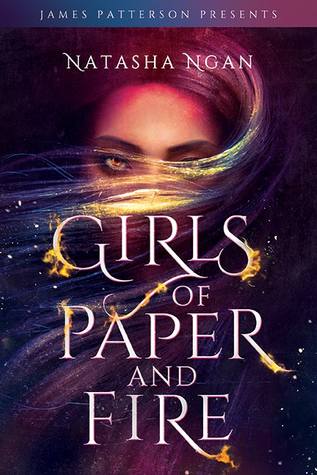 Each year, eight beautiful girls are chosen as Paper Girls to serve the king. It's the highest honor they could hope for…and the most cruel.
But this year, there's a ninth girl. And instead of paper, she's made of fire.
In this lush fantasy, Lei is a member of the Paper caste, the lowest and most oppressed class in Ikhara. She lives in a remote village with her father, where the decade-old trauma of watching her mother snatched by royal guards still haunts her. Now, the guards are back, and this time it's Lei they're after–the girl whose golden eyes have piqued the king's interest.
Over weeks of training in the opulent but stifling palace, Lei and eight other girls learn the skills and charm that befit being a king's consort. But Lei isn't content to watch her fate consume her. Instead, she does the unthinkable–she falls in love. Her forbidden romance becomes enmeshed with an explosive plot that threatens the very foundation of Ikhara, and Lei, still the wide-eyed country girl at heart, must decide just how far she's willing to go for justice and revenge.
"I don't want an easy life. I want a meaningful one."
Wow. What a book this was. It was dark, it was twisted, and it definitely did not sugar coat. And by the end of it I'm left completely reeling and also dying for the next book!
This is definitely one of the darkest books I've ever read, to the point where it really didn't feel so much like YA and more like NA? I would say it's upper YA definitely–I'm seventeen and I probably would have DNFd this book if I read it just two years ago since it would be too intense for me. It's the only book I've ever read that has an actual trigger warning printed in front (violence and sexual abuse), and I think that's really good, since there are some disturbing scenes of sexual violence/assault/abuse and even a rape scene that are hard to read.

I was in complete awe of the worldbuilding. This is an incredible ownvoices Asian fantasy world, where humans and demons are divided into castes, and paper girls are taken against their wills, or at least against the prorogation Lei's will, to be concubines to the cruel demon king. I loved seeing more and more of the world unfold from the way the caste system divides society to the warrior clans and everything else!

For the most part, I really like Lei. She is defiant and adamant in getting out of the role she never wanted, and although she was a bit more passive at the beginning, more trying to stay alive than really change anything about the terrible world, I loved seeing her grow more fierce and passionate as the book progressed! I thought she had incredible character growth thrown into a terrible situation and seizing it!
Of course, like everyone else, I loved the romance. It seems from the synopsis a bit like it might become another of the many many Beauty and the Beast type books where the girls falls in love with the cruel captor man, but that's not the case here! This is a book about two girls who never wanted to be the king's concubines, and who fall in love with each other in a world that wants to make that impossible. It was pretty slow burn in the beginning, and then the way the two girls were there for each other and supporting each other through the terrible things that happened was so incredible. I love these two girls so much!
I loved the rest of the girls as well, particularly seeing the dynamics they had with each other, and learning more and more about them, learning that nobody is as one dimensional as they seem. All of the girls were complicated, as is to be expected when thrust into such a horrible situation. There were a few moments when I was getting annoyed because it seemed like girl on girl hate just because, but as we learned more about the characters and their motives, I thought the positive and negative relationships the girls had with each other on the surface really fit the story.

The ending was really intense and insane, and definitely didn't go about the way I thought it would. I was on the edge of my (metaphorical because I read in bed) seat for the whole ending part of the book! I didn't like it that much, as it felt a bit weird and unrealistic to me, which is the reason I'm not giving this book 5 stars. Overall, this was a really incredible book though and I'll definitely be looking forward to the sequel!
★★★★☆