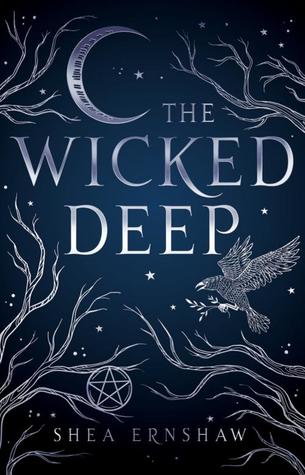 Welcome to the cursed town of Sparrow…Where, two centuries ago, three sisters were sentenced to death for witchery. Stones were tied to their ankles and they were drowned in the deep waters surrounding the town. Now, for a brief time each summer, the sisters return, stealing the bodies of three weak-hearted girls so that they may seek their revenge, luring boys into the harbor and pulling them under.
Like many locals, seventeen-year-old Penny Talbot has accepted the fate of the town. But this year, on the eve of the sisters' return, a boy named Bo Carter arrives; unaware of the danger he has just stumbled into.
Mistrust and lies spread quickly through the salty, rain-soaked streets. The townspeople turn against one another. Penny and Bo suspect each other of hiding secrets. And death comes swiftly to those who cannot resist the call of the sisters. But only Penny sees what others cannot. And she will be forced to choose: save Bo, or save herself.
"Love is an enchantress—devious and wild. It sneaks up behind you, soft and gentle and quiet, just before it slits your throat."
Holy crap omg what did I even just read??? I am blown away. I haven't read a sort of creepy paranormal book like this in a while and I guess I forgot how much I absolutely adore the genre?? It's amazing and wonderful and I just few through this sucker and stayed up an hour later than I meant to even though I had to wake up at 6 AM the next day because I had to finish it and omggg
Penny lives in a cursed town where every year, three long drowned sisters return, possess the bodies of girls, and drown boys as revenge. They've accepted their tragic fate, much as they try to prevent it. The drowning season fills the town with doubt and mistrust, everyone pointing fingers at everyone, unsure who they can trust and who wants them dead, fearful for their own lives.
I got creepy Hocus Pocus or Salem Witch Trials vibes from this and I absolutely loved it. There are secrets withheld, and the characters and the reader don't even know for sure what exactly is real and what is made up. Even the narration itself isn't the most reliable, and all this together just really enticed me to keep reading and know just what exactly is going on! I'm not the best person at figuring out plot twists lol, but wow there was something that really shocked me close to the end and from there on I absolutely could NOT put the book down until I reached the ending!
And what an ending it was!! Even as the book was getting closer and closer to the end, I didn't know what was going to happen and I was guessing all the way through!! My only complaint with this book though, really, is the ending. It left me a bit unsettled and was a bit too open ended, and I wish that it had been more explicitly stated what happened, or else it was a bit different because it kind of felt deceitful? Idk no spoilers so I'll let you decide but that's the only reason why I'm taking off half a star for this book!!
I thought the romance was absolutely swoony and perfect! Penny and Bo have such sweet moments together and I was so absolutely in love with Bo myself! There's a bit of a mystery with Bo as well as Penny, into his character backstory, and I loved figuring out what was happening and slowly falling more and more in love with his tortured character omg.
This book also had some periodic flashback moments told in a couple page long excepts between the chapters and I loved those so much ahh! I typically really don't like flashbacks, but these were just perfect and made me love the book even more! They give the reader insight into the past of the sisters and other minor characters that we wouldn't have known about without and really drew me into the story even more! In fact, quite the contrary to my usual thoughts about flashbacks–I wish there were more!!

4.5 stars