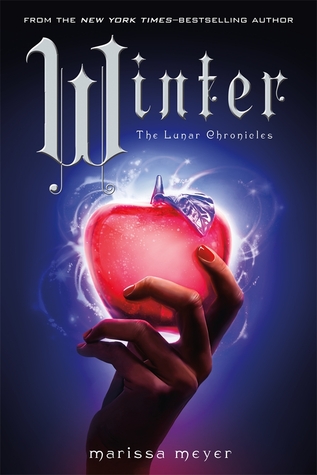 Princess Winter is admired by the Lunar people for her grace and kindness, and despite the scars that mark her face, her beauty is said to be even more breathtaking than that of her stepmother, Queen Levana.
Winter despises her stepmother, and knows Levana won't approve of her feelings for her childhood friend–the handsome palace guard, Jacin. But Winter isn't as weak as Levana believes her to be and she's been undermining her stepmother's wishes for years. Together with the cyborg mechanic, Cinder, and her allies, Winter might even have the power to launch a revolution and win a war that's been raging for far too long.
Can Cinder, Scarlet, Cress, and Winter defeat Levana and find their happily ever afters? Fans will not want to miss this thrilling conclusion to Marissa Meyer's national bestselling Lunar Chronicles series.
"Yeah, but broken isn't the same as unfixable."
This book is SO FREAKING GOOD. SO GOOD! Honestly, the Harry Potter books are obviously my favorite books but aside from those seven this is EASILY my favorite book possibly even better than some of those and I just love it so much!!! I got this book as a Christmas present even though I've already read it so I got to reread it and now I own it so I can reread it forever and ever and ever for all time and I will never grow old of it and now it sits on my bookshelf looking gorgeous with the other three Lunar Chronicles book in all their beauty and I am totally fangirling bye gtg smell this adios
Anyways. Where do I even start with how amazing this book is? With four romances, eight major characters, and ten POVs, you would think that this book would be crazy complicated and hard to follow, right? but NOOO it is fantastic and just perfect!
There is so much character growth from book to book, with Cinder in book one all the way to here, and everyone else we've picked up along the way! I absolutely adored the book Cinder, but this one is just so much more amazing and epic! Cinder is my favorite character so I'm going to talk about how much she's grown from an insecure little mechanic into an incredible revolutionary trying to save the fate of a planet and moon together and fight for her people she's never known! I love Kai as well, and how determined he is to be the best ruler he can be for the Commonwealth, while at the same time falling in love with this wanted fugitive and crossing and double crossing people and also their romance is SO CUTE AOISDKLJF
Scarlet too has really blossomed into someone incredible in this book! I didn't like her as much as the others before, but here she's just so strong! She's an ungifted Earthen surrounded by cruel Lunars, way out of her league, yet she stands her ground an amazing fighter, shooter, and pilot, as well as unlikely friend to Winter! Wolf was maybe my least favorite character and his storyline wasn't as amazing as all the others here, but he was my least favorite of amazing favorites so I still loved him obviously and his desire to be reunited with Scarlet knowing about Levana was so sweet and I'm such a fan!
Cress is so amazing and everyone loves her and I'm absolutely no exception! She's such a naive, sheltered little girl at first, but she overcomes that and fights as an incredible hacker, going into terrifying situations when all she wants to do is curl up in a ball, putting the cause she was dragged into above all else, while still being so cute and sweet and pure! Also THORNE I LOVE YOU MARRY ME! Tbh I actually like Cinder and Kai more than Cress and Thorne, but it's a VERY CLOSE second and I love Thorne the most of all he's so cocky and self assured but also such a sweetie on the inside also there's that scene at the palace you know what I'm talking about that is AMAZING
Finally Winter! The elusive Lunar princess we only get to meet in this book plagued by hallucinations because she refuses to use her gift. I admired her so much, how strictly she was determined to stick to her beliefs and how much she pushed through despite her suffering. Also, I really loved Jacin and I know some people didn't because he seemed a bit grey, not quite as noble as everyone else, more determined to stick with Winter than anything, but tbh this just made me love him and them more and Winter and Jacin's friendship is so pure and I love friends to lovers so much so asoidkljf sofdijkl aosidlkjf oiasljkdf
Also, I didn't even realize the first time how Winter is Snow White (obviously) Jacin is the Huntsman (obviously) and there's still seven dwarfs!!! Cinder, Kai, Scarlet, Wolf, Cress, Thorne, and Iko, who is so awesome showing girls can be badass and strong but also girly and loving fashion and I want Iko as my best friend.
The world building and just the world in general is AMAZING! After three long anticipated books we're finally at Luna and it does not disappoint! The world is so scary and corrupt, especially as I see parts of society reflected from history. Also, the lunar gift?? Mind control?? It's used so much here as a weapon, Lunar against other Lunars, control against other control where you never know who you can trust and it was just so amazing and had me constantly on edge!!
The book is LOOONG. It's over 800 pages, and normally I dislike long books but not this one!!! I! Love! It! Honestly, through the whole thing I was never bored and was constantly flipping pages and flipping pages dying to know what happened next! There was so much action in this as well that it almost felt like multiple books squashed in one with what would be an epic climax only a few pages in, and then another climax, and then another climax, and I swear I never got a chance to breathe I was so nervous and invested in the tale all the way through!!
The final battle is omgholyshoot worthy and it's soooo amazing and worthy of the four book buildup and everything I could ask for. The book is called Winter, and I do love Winter and what we get to see of her, but ultimately it's really Cinder's tale in the end as she goes up against Levana, two powerful Lunar princesses fighting for control.
Anyways, I don't really know how to quite express my love and adoration for this book and this series. Now that I've read all four books twice, maybe I'll start a third reread and make it an annual thing like I do with Harry Potter because it's THAT FREAKING GOOD.
★★★★★ / 5