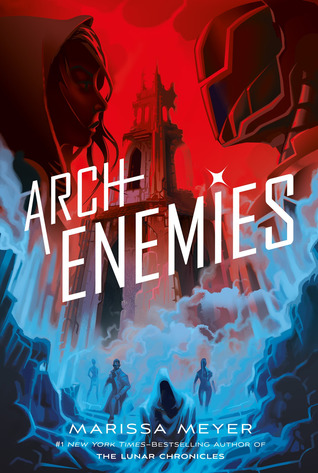 Time is running out.
Together, they can save the world.
But they each other's worst nightmare.
In Renegades, Nova and Adrian (aka Insomnia and Sketch) fought the battle of their lives against the Anarchist known as the Detonator. It was a short-lived victory.

The Anarchists still have a secret weapon, one that Nova believes will protect her. The Renegades also have a strategy for overpowering the Anarchists, but both Nova and Adrian understand that it could mean the end of Gatlon City – and the world – as they know it. 
"It's not all black and white, good and bad. Peoples actions…their motives…there are" – he circled his hands in the air – "gray areas."
It's finally happened. After a whole year of anticipation, I FINALLY read my most anticipated most awaited most I MUST READ THIS AIOSKLJFDAIOFSJ book of 2019 and I have fEELINGS. Note: there will be spoilers for Renegades (the first book in the trilogy) but not Archenemies in this review.
Archenemies picks up a little after the first book left off, after the explosive battle that killed The Detonator and shocking revelation that Ace Anarchy is, in fact, still alive. It's been a year since I read the first one, but I was able to quickly recall what happened within the first couple of chapters and it was so exciting to be able to dive back into this phenomenal world!
Like the first book, this one still centers around the struggle between "good" and "bad," whether there really is a good or bad, if it's so black and white, or if we're all a bit grey. There's the introduction of new "Agent N" that was teased in the last book, and it really added to Nova's struggle, I feel! She also gets to know more of the Renegades, know them better, and has to consider where her true alliances really lie, and I loved seeing that struggle really develop! In addition, we now have scenes with the feared Ace Anarchy, who is still firmly on the sides of the Anarchists, and is still Nova's wonderful uncle, juxtaposed against the Renegades she spends so much time with!
This book did feel a bit slow at times in terms of the action, instead devoting more time to character development, which I both liked and disliked. For a superhero novel, I would have liked a bit more action and things to happen, but at the same time character development is so important!
The character development really gave more time to the budding relationship between Nova and Adrian! These two are so cute, and of course I'm such a sucker for slow burn relationships! There are some sweet awkward scenes too that are fun to read about, just screaming for them to get together already!
Unfortunately, I felt that this sweet character development between Nova and Adrian was at the expense of the other characters. I still love Oscar! He's so funny and also his love for food is basically me in a nutshell get someone who likes you as much as Oscar loves food haha. I would have really liked to see more of the other Anarchists though: Leroy and Honey and Phobia, who seemed to be much more prevalent in the first book than this one.
The one thing that really kind of bugged me about this book was that there were a couple of things that happened in the last book that I was hoping would be explained more here. For example, how is it that Nova survives and kills Ingrid when it seemed so inevitable that Nightmare had died in the first book? Also, why did we pretend that Ace Anarchy was dead for the entire first book, when he seems normal here besides to have a big reveal? I was hoping a few questions would be answered, and they weren't and that sort of makes it feel like a plot hole? But this isn't the last book so I still have hope and if they're answered in the third book all will be forgiven haha.
While I would have enjoyed a bit more action, the action scenes that we did have certainly did not disappoint! The book opens with an awesome sequence against a new villain that I loved, and the conclusion is even more incredible! I was on pins and needles the whole time the ending was happening, and it was everything I could have hoped for and omgomgomg I need the next book so much!!!!
Overall, I didn't enjoy this book quite as much as I was hoping, and not quite as much as I enjoyed Renegades or any of Meyer's other books, but I still really liked it and would definitely recommend you read it! (Although now I'm suffering because I spent the entire year anticipating it and devoured it in one afternoon and now I have to wait another year again…) Now, we only have to wait and see if it's more of a Lunar Chronicles ending or a Heartless one…I'm hoping for something in the middle haha!
★★★★ /5