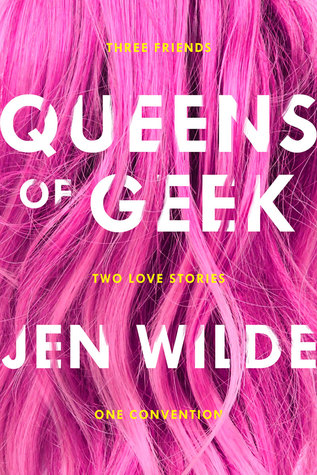 Charlie likes to stand out. She's a vlogger and actress promoting her first movie at SupaCon, and this is her chance to show fans she's over her public breakup with co-star Reese Ryan. When internet-famous cool-girl actress Alyssa Huntington arrives as a surprise guest, it seems Charlie's long-time crush on her isn't as one-sided as she thought.
Taylor likes to blend in. Her brain is wired differently, making her fear change. And there's one thing in her life she knows will never change: her friendship with her best guy friend Jamie—no matter how much she may secretly want it to. But when she hears about a fan contest for her favorite fandom, she starts to rethink her rules on playing it safe.
"It's not my job to convince others of who I am. My only job is to BE who I am. All I can do is find what makes me happy, and live it."
Why is it that the only thing I heard about this book before reading it was that it had great lgbtq+ rep? It does, and that's freaking amazing, but that's far from it! If I had known how amazing all this is, maybe I would have read it a whole lot earlier haha.
List of the amazing amazingness diversity in this book:
LGBTQ+ rep. One of the main characters is bisexual, and it's amazingly depicted! And it's actually talked about too, not just glossed over or anything!
POC rep. The same main character is also Asian, and she owns up to it and loves it and I love her for it! She's also an actress, and what isn't more amazing than an Asian major famous actress?
Autism/mental health rep. One of the main characters, and a couple of other side characters, suffers from anxiety, and it's amazingly depicted, and talked about as well! And how she struggles with it, fights through it, stands up despite it, and grows enormously, is just incredible!
Body positivity rep. (I'm not sure if that's the correct term for it haha). The book discusses both slut shaming and fat shaming. One of the main characters is curvy/plus sized, and she loves her body!
Feminism (which isn't really "rep" but is still amazing!) One of the main characters is an actress, and there's a conversation about how her male costar is constantly asked questions about being an actor and work, while she's asked questions about her body and staying in shape!
Anyways, in conclusion to all of that, this book has won the title from Simon Vs of the most diverse (and therefore most awesome) book I've ever read!! Seriously–you name it, and it's there! Honestly, if for no other reason, you should totally read this book for all the diversity and rep!! But, of course, there are definitely other reasons because this book is just plain amazing!!
Queens of Geek opens with three Australian friends traveling to California SupaCon, one of them because she's an upcoming actress, the other two as her best friends, and all three of them super nerds! I loved all the nerdy/geeky things in here! It kind of reminded me of Geekerella, and I just adored that!! There are so many movie references that I just LOVE!
The two main characters who narrate the story, Charlie and Taylor, are super relatable! I bet that everyone can relate to at least part of one, if not both of them! They're both such strong characters, and they grow so much, which you might think is hard since this book takes place over such a short amount of time (a weekend, I think), but it totally happens!!
There are two relationships here, and I love them both!! Agh–I can't make up my mind on which one I like more! I love them both!! They're so cute and swoony and perfect! Besides just the romantic relationships, there are also amazing friendships, particularly between the three main characters, that I just loved!! They're all always there for each other and it just makes me so happy oisajflk.
I feel like I don't have much objectively to say about this story. I can just say that it brought a gigantic smile to my face! I read it all in one sitting, and I loved it all in that sitting 🙂 Highly, highly, highly recommend ❤
★★★★★ / 5