So this is something that's been on my mind a LOT recently, and I really wasn't going to talk about it because this is my book blog, my place where I review and talk about books, and I felt it really wasn't that relevant. Especially since I've been sort of spamming about TATBILB and CRA lately haha. But it's honestly just made me so damn angry that I couldn't resist writing this post.
So in the past month, Asians have been getting a lot of love in the movie industry with Crazy Rich Asians and To All The Boys I've Loved Before (two of my favorite movies!). Honestly, I'm thrilled about it, and so is what seems like the rest of the internet! But there are always the trolls, the people who won't be satisfied, and apparently for some people this truly incredible amount of representation isn't good enough.
Here are some of the *lovely* things I've read around YouTube comments, Twitter posts, news stories, and even Goodreads! (Not word for word, but pretty similar).
On To All The Boys I've Loved Before:
Oh, of course Jenny Han would made Peter Kavinsky white. Lara Jean just can't date an Asian man.
Lara Jean should have dated an Asian. Asian women are always portrayed as exotic and beautiful, but Asian men get no representation and are seen as not masculine.
Oh, To All The Boys has been done so many times before. It's not unique. What would be unique would be to have an Asian male.
I'm going to boycott To All The Boys because Lara Jean isn't dating an Asian.
Jenny Han is just as bad as everyone else in Hollywood, whitewashing and perpetuating the stereotype that Asian men aren't masculine.
On Crazy Rich Asians (and the one that got me mad enough to write this):
They should have picked women who actually like Asian men, not just traitors who can act like it. I hope the film fails.
All of these comments are basically saying that Asian women who date white men are fake/traitors, and all Asian women have to date Asian men? This is SO UPSETTING to me on a personal level. My mom is Asian and my dad is white, and these comments are basically saying that they shouldn't have been together, that they shouldn't be in love, that my mom is a sellout/traitor to Asians. That, by extension, I shouldn't exist. How do people think it's okay to say this?
It's 2018. We're at a time where Hollywood released a popular romcom about Asians, another about a lgbtq+ teen, where diversity is celebrated, and people are still against interracial dating? I think interracial dating is AMAZING! It's a bringing together of two cultures, something that is just amazing and beautiful to me, to someone who has grown up celebrating Christmas and the Fourth of July and Chinese New Year and the Moon Festival, and can't imagine life without them. Interracial dating means people are seeing past their skin color, their differences, and coming together as not Asians or Whites or Blacks or Latinos or whatever, but just as PEOPLE.
Shouldn't we be falling in love with people's personality? With their reliability? Their honesty? Their sense of humor? They way they get us? The way they'll go out of their way to drive their fancy sports car to the elementary school to make our little sisters happy? Or wake up early in the morning to get us the doughnuts they know are our favorites? Or should we ignore all that and only date people because they have the same skin color as us?
In the past, white people wouldn't have wanted to marry people of color, because whites saw themselves as superior. And that is racist. I don't see a single difference in saying Asians have to date *only* Asians. It's just as racist and wrong and disgusting.
So let's get back to Lara Jean and Peter Kavinsky. First of all, let me just inform you all that Lara Jean lives in Virginia. According to the last census, 5% of Virginia is Asian. Now, let's say that Lara Jean's grade in her high school has 200 males. Five percent of that is 10. So in other words, by saying that Lara Jean must date an Asian, you're limiting her dating options to TEN PEOPLE!!!
What? You're telling me that white girls can choose from ONE HUNDRED AND FORTY PEOPLE to date, but Lara Jean has only TEN OPTIONS because she's Asian??? Jeez! Lara Jean has to date one of these TEN GUYS even if she doesn't like their personality, even if they're mean or annoying or argue constantly, just because they're the same race as her?
So now, this is what irritates me TO NO END is the fact that Lara Jean IS HALF WHITE!!! Yes, let me repeat that: SHE'S HALF WHITE!! So Lara Jean dating Peter Kavinsky, a white guy, ISN'T EVEN INTERRACIAL DATING because THEY'RE BOTH WHITE! Interracial dating would be if Lara Jean was dating an African American, which, by the way, I would be totally fine with. Not dating someone the exact same race as her biological father.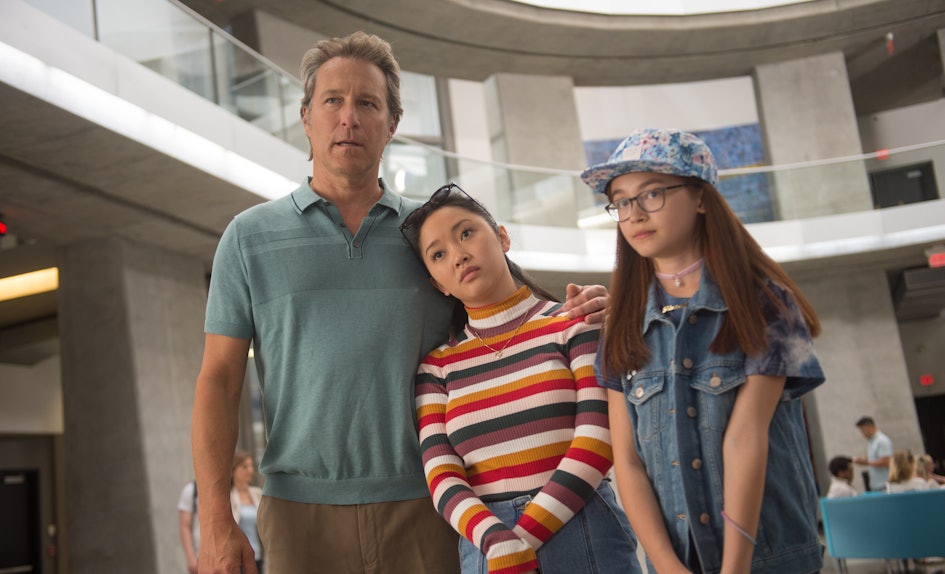 It's starting to feel like people are literally CANCELING OUT HALF OF WHO LARA JEAN IS, and I'm NOT OKAY WITH IT. My whole life I've struggled with never fitting in to one group or another, not being Asian enough for the Asians, being too Asian for the whites, and it's total bullshit. Lara Jean and I are BOTH ASIAN AND WHITE. Being white does not cancel out being Asian, and being Asian does not cancel out being white. Does not cancel out the half of Lara Jean who is the exact same race as Peter Kavinsky.
So, in conclusion, I'm sick and tired people complaining that Peter Kavinsky isn't Asian. Peter Kavinsky is white, and I'm happy. Just as happy as I would have been if he was literally any other race. Because I did not swoon over him because his eyes are larger than mine. I swooned over him because he's him.
Let's Chat!
What do you think of Peter Kavinsky's race? On To All The Boys and Crazy Rich Asians? I'd love to chat in the comments below 🙂