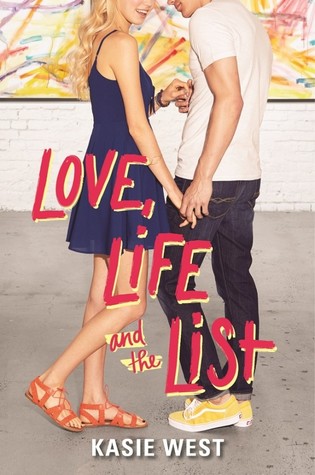 Seventeen-year-old Abby Turner's summer isn't going the way she'd planned. She has a not-so-secret but definitely unrequited crush on her best friend, Cooper. She hasn't been able to manage her mother's growing issues with anxiety. And now she's been rejected from an art show because her work "has no heart." So when she gets another opportunity to show her paintings Abby isn't going to take any chances.
Which is where the list comes in.
Abby gives herself one month to do ten things, ranging from face a fear (#3) to learn a stranger's story (#5) to fall in love (#8). She knows that if she can complete the list she'll become the kind of artist she's always dreamed of being. But as the deadline approaches, Abby realizes that getting through the list isn't as straightforward as it seems… and that maybe—just maybe—she can't change her art if she isn't first willing to change herself.
"Nobody else's opinion about..[you]…is going to matter to you until yours does."

 
At this point, I'm really starting to think that I should stop reading so many fun fluff summer contemporaries. Because, as of today, August 11th, I have done really nothing with my summer compared to all these amazing protagonists. But I guess I might do more with myself if I was in a novel so I'll cut myself a break and continue to feed my addiction.
Love, Life, and the List was my first Kasie West and I'm definitely not disappointed! The book opens with best friends Abby and Cooper hanging out at the beginning of summer, the rest of their friend group having jetted off to other countries and leaving the two of them to have this last summer alone. But when Abby realizes she needs to add more heart to her paintings, she creates a list of things to do to help with that: The Heart List.
If you're like me, then the first thing you're going to notice is that this premise is similar to Morgan Matson's Since You've Been Gone, with a list of things do be done over the summer. And so, I immediately started comparing them and decided, unfortunately, that this one just isn't as good. It's still really good though, especially if you don't compare them!! (which I try to do–I try to take every book by itself–but sometimes I just can't!!!)
I really enjoyed reading about Abby as she tried to do these things that were so outside of her comfort zone. I mean, one of her listed items was something you're scared of. And ahh I was so scared for her I would have died just saying. But I definitely saw character growth, and I was so proud of her by the end. She really branched out and went outside of her comfort zone, outside of the same old everyday life, and it was so amazing and gave me all the smilessssss 🙂
I also really loved the dynamic and friendship (more than friends??? abby wishes!!!) between Abby and Cooper! They were just so cute together and had such fun banter and all the inside jokes and it was very fun and made me wish that I had a friend like that (and maybe I would if I didn't spend all my time inside reading…it's okay, I regret nothing).
Honestly, I had no idea what was going to happen at the end. Some of these books are really predictable (okay, I guess this one is fairly predictable too) but I honestly was so worried for the last 100 pages I was like no Abby don't do this a million things can go wrong and it was fairly stressful and I was thoroughly engaged the whole way through and never bored!!
Along with being never bored, the pacing and length felt really right here too! I've been on a Morgan Matson kick lately, and as much as I love her, all of her books tend to be on the longer side for contemporary and after a while I get bored and I'm like how much more of this fluff can there be?? Here–not the case! This was the perfect length, the perfect summer read ❤
★★★★ / 5