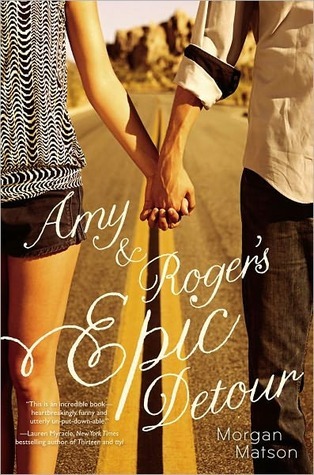 Amy Curry is not looking forward to her summer. Her mother decided to move across the country and now it's Amy's responsibility to get their car from California to Connecticut. The only problem is, since her father died in a car accident, she isn't ready to get behind the wheel. Enter Roger. An old family friend, he also has to make the cross-country trip – and has plenty of baggage of his own. The road home may be unfamiliar – especially with their friendship venturing into uncharted territory – but together, Amy and Roger will figure out how to map their way.
"The best discoveries always happened to the people who weren't looking for them."
A while ago there was a Top Ten Tuesday blog prompt that was talking all about "the travel bug," where I mentioned some road trip books that I absolutely adore. Well, it turns out that all of those amazing road trip books that I love are NOTHING compared to this beauty ❤
When her family unexpectedly moves from California to Connecticut the summer before her senior year, Amy ends up getting stuck with the duty of having to transport their car across the country. And good and bad–she's not doing it alone, she's doing it with her childhood friend Roger (who she actually forgot existed), who has to get from California to Pennsylvania. Good because who would want to be stuck driving alone in a little car for 4 days, bad because who would want to be cooped up in a little car with a practical stranger for 4 days?!
First, I'm just gonna put a disclaimer that a huge part of the reason I loved this book so much is probably because of a lot of childhood nostalgia from taking road trips. When I was a little kid, my family and I took so many road trips just like this one (including one that's basically the reverse–from Pennsylvania to California), and I haven't taken one in a while, but after reading this, I really, really want to, and I'm sure you will too! And if you haven't gone on a road trip like this–well, you're going to want to!
There are just so many fun things about taking road trips that you can see from this book! There's In-'n-Out, which is definitely easily the best burger place in the world and thank you very much for the recognition. There's the amazing Yosemite National Park and the bear boxes that are lowkey terrifying because really, is that tiny box going to withstand a gigantic terrifying bear? There's the Loneliest Road in America, which actually feels like you've left all civilization forever, and the amazing mountains and forests of Colorado. (These above are all things I've done before and I'm just itching to do again). And there's so much more!! (But I don't want to spoil haha!)
One cute thing in this book was the addition of Amy's road trip scrapbook! There were a bunch of pasted in menus, receipts, playlists, and photos that made the whole thing seem so much more authentic (and also give me the itchy travel bug even more!!).
Amy is such a great character. She's so awkward and skeptical, but also determined, especially when she finally steps outside of her comfort zone. She definitely matures a lot during the book, which just made me love her so much more, especially at the end when I was all like YOU GO GIRL!!
If this was all the book was–just a light, fluffy, fun summer contemporary–I would absolutely adore it. But it's more than that–there's a deeper, sadder element underneath it too, and it especially shines through in Amy's growth, and really makes the book, making it something amazing.
This book is definitely my new favorite Morgan Matson book, as well as my favorite summer book, and one of my all time favorite contemporaries ever!!! A must read for the summer time (I suspect I'll be revisiting this next summer 😉 ), and for just whenever ❤
★★★★★
/ 5