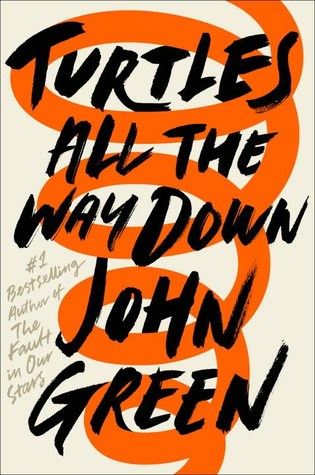 Sixteen-year-old Aza never intended to pursue the mystery of fugitive billionaire Russell Pickett, but there's a hundred-thousand-dollar reward at stake and her Best and Most Fearless Friend, Daisy, is eager to investigate. So together, they navigate the short distance and broad divides that separate them from Russell Pickett's son, Davis. Aza is trying. She is trying to be a good daughter, a good friend, a good student, and maybe even a good detective, while also living within the ever-tightening spiral of her own thoughts.
"Anybody can look at you. It's quite rare to find someone who sees the same world you see."
Well I haven't actually read a John Green book in something like four years and OH GOSH I FORGOT how they don't have cute happy endings and they hurt your heart instead and now I'm dISSAPOINTED but not because it was bad because it WASN'T BAD i just wanted something cute and fluffy for my summer fangirling heart to grab on to.
Honestly, I don't really know what to say about this book. Unfortunately, I don't really have strong emotions about it, which I'm pretty sure is a bad thing because usually if that happens it's because I didn't absolutely love it. But also I didn't dislike it either, you know? It felt like a very typical John Green, read like his other books, is what I'm trying to say, I guess.
What I do know, is that Aza is such a different protagonist, and so amazing to read about. She has OCD, she's a germaphobe, and it controls her life. Some of Green's poetic descriptions really struck me and placed me in her shoes, made me feel just how out of control her life and sufferings were. (Note: her online stalking was AMAZING. I mean, I consider myself to be pretty good at Facebook stalking, but I think Aza may give me a run for my money).
I'd forgotten how poetic and amazing John Green's writing is. Some parts of it sounded very pretentious (what teenagers–or even what people–actually talk like this??? ). They were basically discussing the meaning of life and that stuff in their text messages and I was like what. (Maybe I (and everyone I text) am just not smart enough to get it loll). But, even if it was a bit unbelievable, I really did enjoy reading about it, and it definitely made me think.
There's the best friend character, Daisy, and she was… I guess for the most part I really didn't like her. I really liked how the book encouraged friendship, how that was more important than romance, and I really did like the banter and cute way that Daisy and Aza interacted. But at the same time it seemed like she was using Aza and could be cruel. (view spoiler). There was another thing that happened that I was really uncomfortable with, that I feel Daisy encouraged (view spoiler)
I really liked Davis. He was sweet, and I loved hearing about his love of astronomy. The entire story frame about the entire missing billionaire was really intriguing, and I loved reading about everything that the girls could find out. And it was so heartbreaking what Davis and Noah were going through.
So in the end I am unable to come to a conclusion about this book. Final verdict: Paper Towns is still the best.
★★★.5 / 5