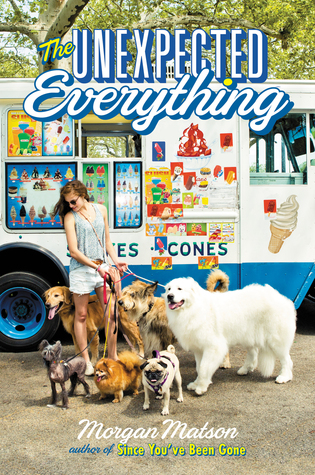 Andie had it all planned out. When you are a politician's daughter who's pretty much raised yourself, you learn everything can be planned or spun, or both. Especially your future. Important internship? Check. Amazing friends? Check. Guys? Check (as long as we're talking no more than three weeks).
But that was before the scandal. Before having to be in the same house with her dad. Before walking an insane number of dogs. That was before Clark and those few months that might change her whole life. Because here's the thing—if everything's planned out, you can never find the unexpected. And where's the fun in that?
"You have to try. You have to take your chances…And then later you can say, without regret or hesitation… 'Once, I dared to dare greatly'" 
Well, this is only my second Morgan Matson book, but I'm officially in the Morgan Matson Is The Absolute Queen Of Summer Contemporaries Crowd. I'm so happy I'm reading this during the summer because I'm just in the absolute perfect mood for it!!
*although, note, maybe reading this during summer isn't such a great thing because it's making me reevaulate my life because Andie is out there having the best summer ever (almost like it's straight from a teen romance book or something) and I'm sitting on my butt reading and doing absolutely nothing worthwhile
aNYWAYS
Andie is the kind of person who absolutely plans out EVERYTHING. She's doing a prestigious summer program to look great on her college apps, everything she does is with the media and her dad's political career in mind. Until, of course, all of that is screwed up and she's stuck walking dogs for the summer. I mean, stuck walking dogs. How is that STUCK?? I would LOVE to walk dogs for a job!!! (Except maybe not because poop. But whatever).
So with all of her plans and everything she knows gone, Andie starts to grow and mature, and change as a person when she's forced to live in her right now instead of the world she planned out months ago. To be honest, at the beginning I didn't actually like Andie that much. She seemed a bit pretentious, acting like she knew everything with an over dramatic friend squad and having a ton of boyfriends just for the sake of it but never beyond three weeks? BUT, the fact that I didn't like her that much at the beginning just made it so much better as she grew and I grew to love her at the end because there was something to juxtapose it to and my heart just became so happy!!
And while her group of friends could be lowkey annoying at times, for the most part they were totally #squadgoals. If nothing else (but there is else so don't worry) this book is SUCH a FUN summer contemporary. It's just so fun to read!! I can't read it without smiling! Especially the text message parts–those were such a fun addition to the story and reminded me so much of my friends and my group text messages (+ group text message spam haha).
I LOVED Clark and Andie's relationship with him!! The meetcute was SO CUTE and also he's SUCH A GEEK I LOVE IT where can I get a Clark?!?!?! Their moments were just the sweetest and it always made me smile ahh. Also, I could tell that they really both made each other grow!! They became better for each other and it's just perfection.
But what I REALLY loved in this book was how the father daughter relationship between Andie and her dad grew!! I've mentioned before how families seem so rare in YA, and I loved the addition of this, and how much Andie was able to grow from it!!
With all that said…I just HAVE to knock off a star for the ending because why. The conflict and the way it all was resolved just made me pissed, long story short. (view spoiler). But aside from that, SUCH A CUTE BOOK!!!
★

★

★

★

/5