Top Ten Tuesday is a meme hosted by That Artsy Reader Girl. This week's prompt is books with sensory reading memories! So I guess for this it's really just going to be some of my favorite books because those are the ones I really remember haha!
1. Ella Enchanted. My all time favorite book ever! I remember getting it at Barnes and Noble the summer I turned nine, reading and rereading it all summer long. My original summer read ❤
2. To All The Boys I've Loved Before. This one is more recent–I read it in January–but I remember relating to Lara Jean's feelings about Margot moving away so hard since my older sibling just went to college last year.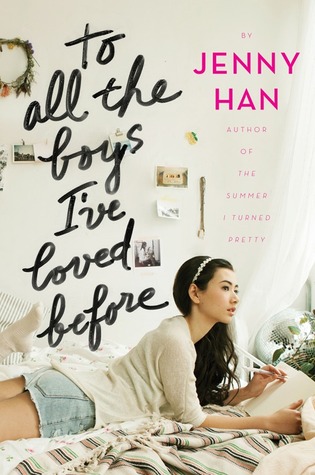 3. The Mother Daughter Book Club. I remember reading The Mother Daughter Book Club series with my mom at night in bed during sixth grade (and the girls were in sixth grade too so it was perfect!!), one chapter every night ❤
4. The Babysitters Club. I got The Babysitters Club as my grand prize for summer reading the summer before second grade! It made me want to babysit so much but all these years later I've never done it haha
5. Jane in Bloom. This was the only book that ever made me full on bawl. I've gotten teary eyed before at a lot of books, but never full on sobbing. But this one…my family was out doing something I don't remember, and I was curled up on the couch, hugging my teddy bear, crying my eyes out. Idek why I was so sad maybe I was too young to be reading it lol.
6. The Hunger Games. I read the Hunger Games in the beginning of sixth grade, when the movies were coming out! I was so shocked and amazed because, just turned 11 years old, it was the first "YA" and the first dystopian I ever read, complete with a 16 year old protagonist (that seems so young now…i'm old…), a love triangle (but did I eve know what that was at the time?), and kids killing kids!!!
7. Cinder. I remember reading this two summers ago up in the mountains on vacation! We were going to go fishing on a boat but first…10…more…pages…
8. Pride and Prejudice. Oh jeez, I don't think I'll ever be able to forget how my messed up schedule led to me reading it painfully slowly on the stone bench outside the gym at 7AM every day for about three weeks when it was assigned… annotating who says what because the book never says…
(for people who don't like writing in books, you should see how my copy has "Dar" "Liz" "Bing" every line of dialogue xD)
9. A Tale of Two Cities. I'll never be able to forget the amount of pain, suffering, and misery this tome put me through freshman year.
10. Bookishly Ever After. Wow I was so ashamed of myself when I brought this book to the beach last year and it got all wet oh well
That was my list today 🙂 Don't forget to like and comment below! Side note: I seem to have thought of millions of songs with sensory memories, but struggled to think of books–anyone else??