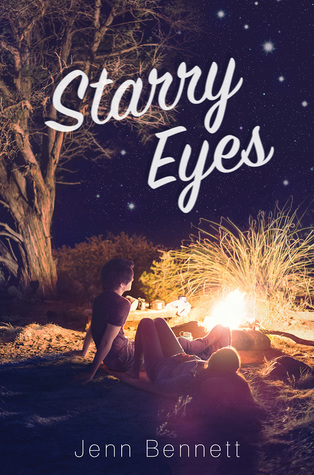 Ever since last year's homecoming dance, best friends-turned-best enemies Zorie and Lennon have made an art of avoiding each other. It doesn't hurt that their families are the modern day, Californian version of the Montagues and Capulets.
But when a group camping trip goes south, Zorie and Lennon find themselves stranded in the wilderness. Alone. Together.
What could go wrong?
With no one but each other for company, Zorie and Lennon have no choice but to hash out their issues via witty jabs and insults as they try to make their way to safety. But fighting each other while also fighting off the forces of nature makes getting out of the woods in one piece less and less likely.

And as the two travel deeper into Northern California's rugged backcountry, secrets and hidden feelings surface. But can Zorie and Lennon's rekindled connection survive out in the real world? Or was it just a result of the fresh forest air and the magic of the twinkling stars?
"It's years in the making, and it's messy and convoluted, some of it even tragic. But I wouldn't change the route, because we walked it together."

Okay so like after reading this I really want to go to a national park and go camping. I mean, when I'm camping half of the time I love it and half of the time I'm super fed up with all the bugs and sleeping on rocks and stuff, but this makes it seem so amazing?? Also hats off to Zorrie for putting up with hives and snakes and all assortment of crazy stuff because I would probably die. Also because I'm super unathletic (what can you say? I'm a reader, not an athlete) so I'm super in awe of all the hiking she does. But anyways. On with the review.
Zorrie is the kind of girl who micromanages everything. So going on a camping trip that was unplanned is pretty much the apocalypse for her, especially when it involves Lennon, the boy who she used to be best friends with until she just…wasn't. And now he's her mortal enemy, especially considering that Lennon's moms own a sex shop next door to Zorrie's parent's wellness clinic and are routinely driving away customers.
The beginning of this book high key annoyed me, and if the whole book was like it, it would probably have been a 1 or 2 star read. Right off the bat, Zorrie struck me as a complete spoiled brat, complaining about her "glamping" (glamorous camping) trip with spas and bars and heat. But she still wanted to go, and to complain about it, when she could have easily not gone if it was so awful? And the reason that she wanted to go was so ridiculous–because she was using her popular friend to gain popularity. First off, this made me realize that Zorrie was an extremely irritating popularity obsessed girl that I could in no way relate to. And the fact that her friend was such a Queen Bee didn't help either. (I mean, I lowkey want to burn (not really–I would never) all books that mention Queen Bees in high school because it's so unrealistic and it's just steryotyping? Bonus points if the Queen Bee is also the head cheerleader, blonde, and a b*tch).
If that wasn't annoying enough, the entire set up with Lennon and Zorrie being mortal enemies was just so stupid? I mean they were apparently life long best friends, and then they tried dating and they absolutely loved it and all was well. And then Lennon stood Zorrie up for one night and that was the end of that. She didn't even pause to consider that something might have happened and after all these years of knowing him, it wasn't like him to do that, and it must have been a fluke?
When the crew starts out camping, it seemed ridiculous as well. I kept thinking–why are they even friends? I mean, Lennon went along on the trip and he clearly didn't like anyone except for Zorrie, and nobody liked him, so why was he even invited? And then everyone was trying their hardest to get rid of Zorrie, so why was she even invited? Just for plot convenience?
So the first half of the book bugged the crap out of me. BUT. The second half of the book ended up so much better and I think I just fell in love!! It got significantly better when all the other irritating minor characters disappeared and it was just Zorrie and Lennon alone in the wilderness 🙂
I really liked the descriptions of the wilderness and what they did! I mean, they climbed up rocks, they trekked through a cave, they encountered wild animals such as mountain lions and bears, they camped in a lightning storm–it was just so amazing and I just loved it!
There was so much character growth that it was incredible as well!! I mean, I pretty much loved Zorrie at the end of the book! She grew so much as a person, which really surprised me in a good way considering how irksome she was in the beginning. And after she and Lennon actually started TALKING like normal, reasonable people, everything started working out and my heart was happy ❤
3 out of 5 night stars