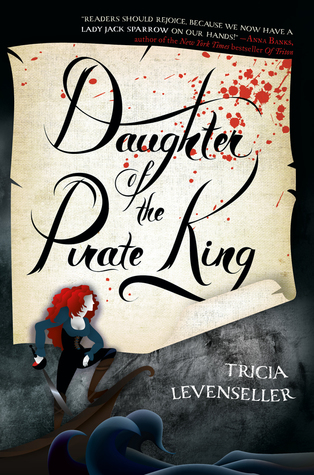 Sent on a mission to retrieve an ancient hidden map—the key to a legendary treasure trove—seventeen-year-old pirate captain Alosa deliberately allows herself to be captured by her enemies, giving her the perfect opportunity to search their ship.
More than a match for the ruthless pirate crew, Alosa has only one thing standing between her and the map: her captor, the unexpectedly clever and unfairly attractive first mate, Riden. But not to worry, for Alosa has a few tricks up her sleeve, and no lone pirate can stop the Daughter of the Pirate King.
"I am me because I choose to be me. I am what I want."
There are some princesses who follow all the rules, wearing ball gowns in formal castles, attending stuffy dinners, looking no further than a handsome Prince Charming. And then there are some princesses who look for adventure on the high seas, having no qualms about killing for their own purpose and seeking out gold. "Princess" Alosa, the Daughter of the Pirate King, is definitely the latter.
Alosa is the only person her father, the all powerful and feared Pirate King, trust to carry out his mission. Consequently, she ends up allowing herself to be captured and taken prisoner aboard another pirate ship in search of a map that will lead the pirates to islands of unbelievable riches. However, things don't quite go as planned, but isn't that what makes a book good?
I just loved the setting and premise of PIRATES in this book! It made me realize how much I like pirates and how much I want more pirate books haha–apart from a couple peter pan books, I don't think I've read a single YA book about pirates! Well, this book gave me just what I didn't know I needed. The pirates are so ruthless and dark, but also many are so much more complex than what seems on the surface! I just loved all the action and devious plots and everything pirates and now I really want to go watch Pirates of the Caribbean and also ride the Disneyland ride so pls excuse me while I go do that and then I'll come back and finish this review.
I really liked Alosa as a character! She was so fierce and ruthless and I admired her resolve, and how she was determined to get anything done! She had so many tricks up her sleeve too, and hidden things she could do, and there were times where I had no idea how she was going to get out of a sticky situation–but of course she surprised me!
One thing I didn't really like about Alosa was how she was constantly talking about how amazing she was, how amazing her skills were, etc. It felt like there was a lot of "telling" instead of "showing" (is anyone having flashbacks to third grade?), and I would have really liked to see her in action more instead of just talking about herself.
I really liked the secondary characters too! The love interest, Riden, is absolutely swoonworthy!. He was a ruthless pirate like everyone else, but there was something else there, something more ❤ He did bother me a little at times when he seemed to not have a spine and get walked on–but at the same time there's something to be said for that kind of loyalty, and while this certainly caused him to butt heads with Alosa at times, she definitely had a strong case of stubborn loyalty too–to the Pirate King! Other side characters, Alosa's two "jailers" E and K (I read this book a week ago and can't remember their names…cries…) were so much fun, and I just loved reading their banter!! (What do you get when you cross a superstitious person with a drunk realist?)
I do think some parts of the ending were a bit strange, not very well explained, rushed, and overall didn't fit with the rest of the book very well? Unfortunately, the ending was probably one of the weak points for me. However, the fabulous book overall more than made up for it!!
4 out of 5 sea stars