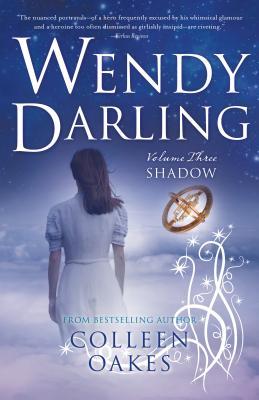 Wendy Darling finds herself once again in the arms of Peter Pan, a charming god-child who desires power above all things. Instead of the passion she once had for him, however, this time Wendy's hear burns with a secret: with Hook as her ally, she is there to defeat the evil that lies inside of Peter, the darkness that holds all Neverland hostage—the Shadow.
This is a task made nearly impossible by the arrival of Booth, her sweetheart from London and a new pawn in Peter's manipulative game—a boy whose heart she must break in order to save his life.
As all of Neverland prepares to fight, Wendy races to untangle Peter's connection to the Shadow, a secret long buried in the Forsaken Garden. When the time comes, all of Neverland will rise to fight—but if Wendy can't call the Shadow, everything she is fighting for will be destroyed. Is Wendy's love for her family enough to save them, or will Peter's madness consume them all?
"Fear doesn't care if you are lying down or standing; it comes either way. And I would rather be standing when it comes for me." 
A strange boy comes into a child's window in the middle of the night, kidnapping the children, taking them from their parents. He keeps a ragtag band of little boys in the middle of a wild island, leading them to fight with grown men pirates who have real guns. He keeps a girl to be his "mother," hoping that she forgets her own mother and stays kidnapped forever. Such is the story of Peter Pan, and I'm sure I'm not the only person to have ever thought it was a little… creepy. And in the final installment in Colleen Oakes's AMAZING Wendy Darling Series, Peter is more than just a little creepy–he's a cruel, malicious villain who could take everything if Wendy can't defeat him.
I had high high hopes coming into this book, and I was not let down. The Wendy Darling series is, in my opinion, the most underrated YA series ever. It dives deep into the heart of Neverland, developing into an amazingly complex, well written, developed fantasy series and retelling.
This book, like the rest of the series, was very fast paced. Despite being less than 300 pages (even shorter than ACOFAS and apparently nothing happens in that one lol), Oakes develops a fantastic story filled with plenty of plots, reveals, romance, action and all around amazingness!
I think the characters were my favorite part of this book. The characters here were all very well rounded and fleshed out–honestly, there were so many characters that I just kept changing my opinion on because they contained so much more than I'd originally thought!
Wendy is a very strong character, who is willing to push herself to do crazy hard things–physically and mentally–to protect the people she cares about–and people of Neverland who she doesn't even know! Hook is still one of my favorite characters, and I just adore how he is so much more caring than he seems on the surface and is almost like a father figure to Wendy! I just wish that he was in this book more! To be honest, Booth was a bit more boring here than I remembered him, and maybe seemed the least interesting of the characters, but I still found myself delighted with his sweetness. Peter was an absolutely FANTASTIC villain–I hated him, I hated him SO MUCH, but yet… There are so many layers to him, especially tied in with the Shadow, and the ending absolutely tore me apart! (view spoiler) And hands down, my favorite character was John, who redeemed himself SO MUCH, evolving my thoughts on him and making me question everything!
The romance was maybe one of the weaker parts of this book for me since I found Booth to be a bit boring. I think this might be partially since it's been over a year since I read book one, where we last saw him. Still, I would be lying to say that I didn't swoon a bit over him! And I absolutely loved how he motivated Wendy, and the struggles she went through for him!
The plot about destroying the Shadow was insane! It was so intense and high stakes that I was terrified the whole way through! I was always kept guessing, and ended up loving the way the adventure and the end result worked out!
The ending of the book was incredible! Three books have been building to the final showdown against Peter, and it was so worth it! Oakes did a great job of writing the way fights–air fights!–worked out! And I loved how all the characters seemed to play a role into it.
I'm definitely still recovering from the bittersweet ending though. There were a lot of things that happened that I'm ultimately happy about and worked out…but that doesn't mean my heart was spared!! Overall this was an INCREDIBLE read! I think all Peter Pan retellings have been spoiled for me now because how can I ever see Peter as good again????
5 out of 5 Neverland stars