Young Adult Fiction (YA): a category of fiction published for readers in their youth. YA books are catered towards readers from 12 to 18 years of age.
New Adult Fiction (NA): a developing genre of fiction with protagonists in the 18–30 age bracket.
Site: Wikipedia
---
Before I joined the online book community in January, I thought that young adult was, well, for young adults! I'm a teenager between the ages of 12-18 who has been reading young adult since I was 12 and thought I would continue reading it until I was 18, and I thought that that was just how it was, similar to how I stopped reading middle grade when I hit middle school.
However, since joining the book community online and taking to the internet to expressing my bookish opinions and reading those of other people, I was surprised to learn that many adults read YA fiction–many YA readers are adults.
I was a bit surprised to learn that, but I wasn't upset at all–in fact I was thrilled! I think it's just so amazing that people of all ages from all different situations can all connect and bond over the same books, and how the experiences that teenage protagonists have can be shared by those well beyond their teenage years. I absolutely love interacting with/reading reviews of adults on YA!
Another category of fiction that I've discovered too is New Adult/NA fiction, which depicts slightly older people. However, from what I've heard, a lot of NA fiction is just glorified smut/romance, and doesn't sell anywhere near as well as the wildly popular YA. Consequently, it seems that many publishers have taken to marketing NA books as YA.
To be honest, this is something that I'm torn on. I recently read Fangirl, and as an older teen who is looking to college, I really enjoyed it! As I've gone into a bit of a depression realizing I'm finally older than many YA protagonist–Katniss was light years older than me when I read Hunger Games how is this happening???–I thought it was amazing to be able to look to what older teens are going through, and to be able to take the same old high school drama to a new setting.
Another "NA" I've read is The Truth about Happily Ever After. Going off the synopsis alone, when I started reading the book, I was under the impression that it was about a high school girl, and was surprised to find it about a college girl in a sorority who wants to move in with her boyfriend. It was definitely a surprise, and while I still enjoyed it, I definitely thought it too mature for my 12 year old self in the YA section.
Finally, everyone knows about the A Court of Thorns and Roses series by Sarah J Maas, which is filled with pages and pages of explicit sex by 20+ year olds, but is still marketed at teenagers? This is one that I felt uncomfortable reading parts of, and I'm almost certain is only in YA to make more money. I can't believe this series actually won the Goodreads choice awards for young adult!!!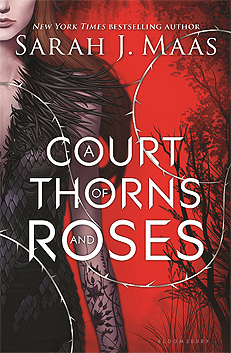 All three of the above books were shelved in the Young Adult section at my library, and the last two I started without knowing they were actually New Adult. My problem with NA books (in my eyes, any book with a main character college age/18+) being marketed as YA is that they can easily be picked up by younger readers in the YA section and read, not realizing that it's really NA. Although there are some books I read based off blog/goodreads recommendations, there are more books that I just walk into the library and pick up based off the blurb, and I would have no way of knowing that they're not YA. Like I said, I started reading YA when I was 12, and I read some books that I now consider very mild that I thought were crazy mature and scandalous back then! Needless to say, I probably would have been scarred for life if I read ACOTAR.
Honestly, I think it's kind of disgusting that ACOTAR is being marketed as YA when it's clearly just for money. However, it's harder to tell for books like Fangirl, and I'm torn over whether they should be separated and sold as NA. One solution I have is that I've noticed some books on the inside flap have a little 12+ or 14+ age suggestion–this was something that I used a lot when I was 12. Those are the only two ages I've seen though, and it might be helpful to have them on older books, maybe 16+. Of course if you're younger you can still read them, but it's a general guide.
Anyways, tell me your thoughts on marketing YA books as NA! This is something that I'm still unsure of–should Fangirl or ACOTAR be shelved as YA? And where should we draw the line–at age, or at sexuality/violence/language, etc.