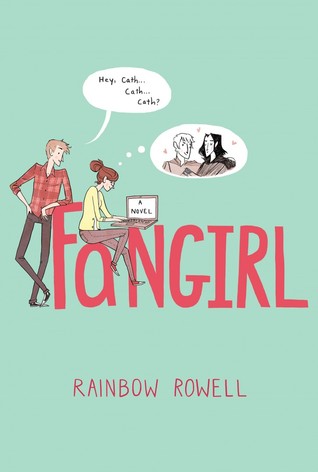 Cath is a Simon Snow fan.
Okay, the whole world is a Simon Snow fan…
But for Cath, being a fan is her life—and she's really good at it. She and her twin sister, Wren, ensconced themselves in the Simon Snow series when they were just kids; it's what got them through their mother leaving. Reading. Rereading. Hanging out in Simon Snow forums, writing Simon Snow fan fiction, dressing up like the characters for every movie premiere.
Cath's sister has mostly grown away from fandom, but Cath can't let go. She doesn't want to.

Now that they're going to college, Wren has told Cath she doesn't want to be roommates. Cath is on her own, completely outside of her comfort zone. She's got a surly roommate with a charming, always-around boyfriend, a fiction-writing professor who thinks fan fiction is the end of the civilized world, a handsome classmate who only wants to talk about words… And she can't stop worrying about her dad, who's loving and fragile and has never really been alone.
For Cath, the question is: Can she do this? Can she make it without Wren holding her hand? Is she ready to start living her own life? Writing her own stories? And does she even want to move on if it means leaving Simon Snow behind? 
"I don't trust anybody. Not anybody. And the more that I care about someone, the more sure I am they're going to get tired of me and take off." 
This book was just the right amount of fluff and good feelings that I wanted, and easily brightened my day! Identical twins Cather and Wren (Catherine xD) are entering their freshman year of college, prompting their lives to change and the two sisters to grow apart. Instead of having the safety of her sister, Cath now has to navigate a new situation outside of her comfort zone, dealing with a new roommate, professor, and all the challenges that come with growing up.
Cath is definitely one of the most relatable characters I've ever read. First of all, she's a total nerd who would much rather live in a bookish world than our own, who loves reading and writing (especially fanfiction!!), and is ready to drag everyone around her into her geekishness too! She also has social anxiety, and I related with her so much. She's awkward, prefers books to parties, never knows what to do in social situations, and is basically one of the most relatable people I'ev ever read about (and since we're all here on goodreads, I'm sure a lot of you agree too haha).
The supporting characters were just as fantastic as Cath! I loved the relationship she had with her twin sister Wren, especially seeing how they could be strained as they were such different people, but at the end of the day were always there for each other! Her roommate Reagan is such a fun character too, with an amazing personality, and I love how she's so supportive of Cath!! (And willing to take a hapless little freshman under her wing haha).
The theme of family was pretty prevalent here too, and that made me super happy! I feel like family gets glossed over a lot in YA, but along with having her sister for life, Cath also has a strong connection with her dad, and her relationship with her mom is another one of the things that Cath has to deal with to grow as a person.
The relationship Cath had was just so adorable!! I was a little nervous at first that it was going to turn out to be a love triangle, but it wasn't, and that made me just SO HAPPY! And I was thrilled that Cath and her boyfriend got together more in the middle than end of the book so we got to see them together ❤
I'm not entirely sure if I would classify Fangirl as Young Adult or New Adult. Based on age alone, it would be new adult since it is set in college, with an 18 year old protagonist and major characters aged 21. However, the content definitely YA appropriate (much more than ACOTAR lol), and I think high schoolers can relate Cath's college situations to their own lives easily! I really enjoyed the unique college setting (instead of HS) too, and seeing the characters a bit more independent!
One complaint I have is that this book felt really long. It was close to 500 pages, which is like a tome for contemporary, and it felt a bit like it dragged at times. One thing that contributed to the length that was kind of annoying were the numerous excerpts from Simon Snow, Carry On, and other fanfictions. I've already read Carry On by Rainbow Rowell, and while I liked it enough, it felt pretty repetitive reading those excerpts. Furthermore, they didn't really relate to Fangirl, and can be easily skipped (which I did sometimes…or skimmed), especially since we know it's basically a rip of of Harry x Malfoy. I really loved the fangirlish moments and how devoted Cath was to her fandom, but these just felt unnecessary!
Overall, I really loved Fangirl and would definitely recommend it to anyone who likes contemporary, likes books, or is a fan of ANYTHING really! The ending (the whole book, really), made me just SO HAPPY!
4.5 out of 5 paper stars