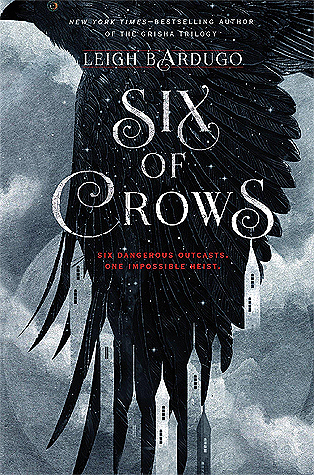 Ketterdam: a bustling hub of international trade where anything can be had for the right price–and no one knows that better than criminal prodigy Kaz Brekker. Kaz is offered a chance at a deadly heist that could make him rich beyond his wildest dreams. But he can't pull it off alone…
A convict with a thirst for revenge.
A sharpshooter who can't walk away from a wager.
A runaway with a privileged past.
A spy known as the Wraith.
A Heartrender using her magic to survive the slums.
A thief with a gift for unlikely escapes.
Six dangerous outcasts. One impossible heist. Kaz's crew is the only thing that might stand between the world and destruction—if they don't kill each other first. 
"I will have you without armor… Or I will not have you at all."
Six Reasons Why I Love Six of Crows 
6. It's so dark! This is YA, but there are some really dark, gruesome, creepy things happening, and it's crazy to think that these are just teenagers going through all this! It doesn't sugar coat stuff and I love it!
5. The world building! I haven't read the Grisha Trilogy yet so it took me a bit of time to orient myself into this world, and admittedly, I was pretty confused and frustrated at first trying to figure it out (and still a little confused now!). One small complaint about this book is that it was really dense at first, and I would maybe like a little more explanation. But wow, the world set up here is just incredible! I love reading about the different places, the different beliefs, the different peoples…everything!
4. The relationships between the characters are wonderful! We get a hint of romance between Kaz and Inej and it is GIVING ME LIFE I need MORE it's the perfect example of slow burn I just love it! We also have Nina and Matthias, and Jesper and Wylan, and I just love them all ❤
3. The heist! Of course, the central conflict of this book! It's so daring, so high stakes, so insane, and left me guessing and questioning what was going to happen all the way through!
2. The backstories! This is sort of a part of reason 1, but all the characters have such complex, amazing, sad, insane backstories that it deserves its own point! Point definitely taken that you can't judge someone if you don't know the full story.
1. The characters!! I'm a character driven reader, and this is a character driven book, so it was perfect! You may have heard that this book has #squadgoals, and that's absolutely right!
There's Kaz Brekker, who is so morally grey–he did something things that really shocked me and even slightly disturbed me, and he's motivated by greed and revenge. Yet…he really draws you in and sweeps you away, and whenever the dubbed "Dirryhands" ever let his cracks show…I'm in love. Adding Kaz to my list of book boyfriends ahora.
Then there's Inej who is just so strong and amazing and powerful! She can do some pretty harsh things too, but her heart isn't black–I can tell at the core she's good. She's so strong too it's incredible–she just won't give up!
Nina is a Grisha heartrender–a person with powers to manipulate the body and heal/harm it, for those of you like me who haven't read the Grisha trilogy–who is just so fun to read about! But it's not until the end that you realize just how incredible and heroic she can really be!!
Matthias…oh what a character! He's so conflicted, the perfect example of when your heart and head are saying different things! He always kept me on edge!
Jesper was SO FUN to read about! Whoo I love him kind of like Kenji from Shatter Me!
Finally Wylan is the one we learn the least about, and seems kind of weak at first, but ends up being so sweet and kind and I just love him! But it's clear that he's more than he appears, and I want to know more!
4.5 out of 5 dirty stars