Top Ten Tuesday is a book blog meme hosted by That Artsy Reader Girl. This week's prompt is Books I'd Slay A Lion To Get Early. Holy omg these upcoming releases that just about kill me let's see. Without further ado, my Top Ten Tuesday Ft. Lots Of CAPS LOCK!!!
1. A Court of Frost and Starlight by Sarah J Maas: Clearly I missed the lion to get it early since IT RELEASES TODAY OMGOMGOMGOMGOMG! But also I'm hold #4 at the library???? That means I have to wait 6 weeks to read it????? Maybe I should slay the people ahead of me instead of a lion!!!!! (just kidding…mostly…)
2. Archenemies by Marissa Meyer: It has been SO LONG since I read Renegades but I loved it so much and HOLY OMG THE ENDING THAT CLIFFHANGER WHAT HAPPENS????? I MUST KNOW PRONTOOOOOO!!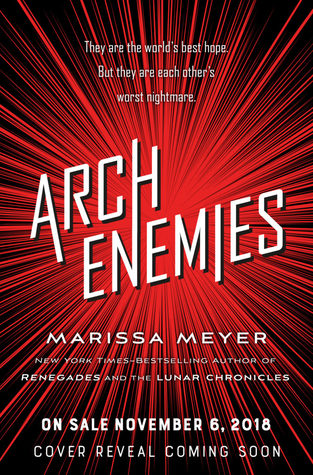 3. My Plain Jane by The Lady Janies: Ahhh I loved My Lady Jane so much it was so funny and awesome and ahhh! I want to read the sequel SO BADLY!
4. The Wicked King by Holly Black: I loved the Cruel Prince. I love Holly Black. Everything she's written pretty much I love especially Curse Workers and Darkest Part of the Forest. But OMG can we just TALK about that ending to Cruel Prince THAT CLIFFHANGER AND CRUELNESS coming up and also THE COVER FOR WICKED KING IS SO AAAHHHHH!
5. Between Frost and Fury by Chani Lynne Fender: I liked the first book. Really, I did. I just didn't like the love interest that much. And it all tied up neatly. And then there was an epilogue. And OMG WHAT JUST HAPPENED YOU DIDN'T CLIFFHANG US LIKE THAT QPAFSILJD)A(FIOPJS. ALSO in the acknowledgements it looks like my ship might become a thing????? also THAT COVER???? !!!!!!!
6. Bookish Boyfriends by Tiffany Schmidt: Missed the lion here today too but you can bet I'll be reading ASAP. I found this one on Goodreads and it's one of the few on this list that's not in a series, and by a completely new to me author, but can we just read the summary?? Or even just the TITLE?? BOOKISH BOYFRIENDS ARE MY LIFE!! I would LOVE a date with Darcy!!!!
7. A Thousand Perfect Notes by C.G. Drew aka Paper Fury: Hello guys, can't we all agree that Cait is the absolute best book blogger ever??? Her blog is #goals. I must read her book AS SOON AS POSSIBLE if it's even a fraction as perfect as she is I know that I'll love it.
8. Fierce Like A Firestorm by Lana Popavic: The sequel to Wicked Like A Wildfire!! I didn't particularly love WLAW, but omg I LOVED that ending!!!! and that CLIFFHANGER???? wHaT HAPPENS NEXT I MUST KNOOOOOOO!!! ps: cover appreciation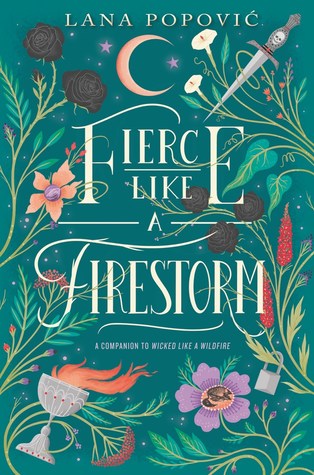 9. Royals by Rachel Hawkins: So this sounds SO CUTE???? I LOVE princesses and princes and castles and royals and all that jazz!! Plus it kind of sounds like The Princess Diaries, which is AWESOME???? !!!!!!!! missed that lion so I gotta get this prontoooo!
10. Broken Things by Lauren Oliver: Like, the blurb sounds so good???? It sounds amazing!!! And I love Lauren Oliver–she's one of my favorite authors I love Delirium, I love Before I Fall, I love Panic, I just love everything she writes!!!
Okay now I'm sad that I have to waittttttt 😦 Why can't time go faster? Brb, I'm gonna go brush up on my lion slaying skills. Do we have any similarities between our TTT's? Comment below and I'll check yours out 🙂