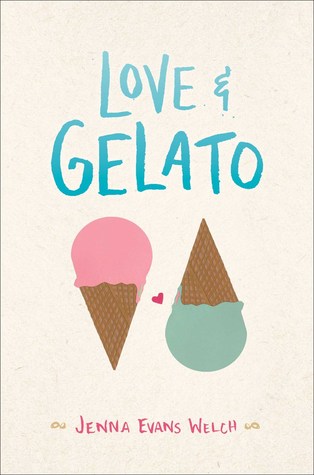 Lina is spending the summer in Tuscany, but she isn't in the mood for Italy's famous sunshine and fairy-tale landscape. She's only there because it was her mother's dying wish that she get to know her father. But what kind of father isn't around for sixteen years? All Lina wants to do is get back home.
But then she is given a journal that her mom had kept when she lived in Italy. Suddenly Lina's uncovering a magical world of secret romances, art, and hidden bakeries. A world that inspires Lina, along with the ever-so-charming Ren, to follow in her mother's footsteps and unearth a secret that has been kept for far too long. It's a secret that will change everything she knew about her mother, her father—and even herself.
People come to Italy for love and gelato, someone tells her, but sometimes they discover much more.
"Turns out there's a reason they call it falling in love, because…there's no doing or trying, you just let go and hope that someone's going to be there to catch you." 
What can you expect when out of nowhere, you're sent to a foreign country where you don't speak the language to live with the father you never knew you had?
Such is the dilemma that Lina is placed in in Love and Gelato. When her mother dies, Lina goes to Italy to live with Howard, who's name she never once heard until months before her mother's death, in the middle of a graveyard. There, she starts to settle into her new life when she gets her mother's journal from when she lived in Italy. With the journal, Lina and her friend Ren explore the city and her past, and discover things about her that she never could have guessed.
This is one of the cutest books I've ever read! It was such a quick, easy read, but still left me feeling completely satisfied. I really loved Lina as a character. Her thoughts and actions felt really realistic, and I could really place myself in her position.
I loved all the other characters as well! Especially Ren! He's was so cute and such a good friend, and I really completed the book and added so much to Lina's journey. Howard was such a wonderful father figure as well, and I loved Lina's interactions with him.
The romance in this book did feel a little insta-lovey, which irked me. I mean, the events of the book only take, like, a week! In addition, there was a small love triangle, which was extremely annoying because it only seemed to exist for the sole reason of having a love triangle, and added nothing to the story. If anything, it only made Lina look worse!
The setting of this book was definitely something that really set it apart from other books. I love how Walsh describes locations in Italy–I really want to go there now! It had a really good travel/summer vibe, almost like a road trip book even though there was no road trip, because it was about an American girl discovering Italy, which I loved!
Also, a separate paragraph just for food. Because yesss this book's food completes my life! I was so hungry reading it lol, and I can practically taste the gelato in my mouth! I would totally go to Italy for gelato haha.
What really made this book memorable for me, setting it apart from tons of other YA fluff contemporary, were the strong themes of family. I loved the ending so much–it was so satisfying! This book really shows how important family is, and how you can find it anywhere, not just with blood relatives.
4 out of 5 gelato stars
You can also read my review on Goodreads here.
Check out Love and Gelato on Goodreads, Amazon, and Barnes and Noble.