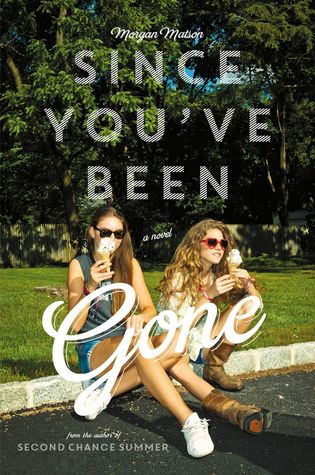 It was Sloane who yanked Emily out of her shell and made life 100% interesting. But right before what should have been the most epic summer, Sloane just…disappears. All she leaves behind is a to-do list.
On it, thirteen Sloane-inspired tasks that Emily would normally never try. But what if they could bring her best friend back?
Apple picking at night? Okay, easy enough.
Dance until dawn? Sure. Why not?
Kiss a stranger? Um…
Emily now has this unexpected summer, and the help of Frank Porter (totally unexpected), to check things off Sloane's list. Who knows what she'll find?
Go skinny-dipping? Wait…what?
"Real friends are the ones you can count on no matter what. The ones who… never have to tell you that they're your friends."
It's hard to step outside of your comfort zone. For a girl with only one real friend who never steps outside of her shell, things like kissing a stranger or going skinny dipping are unfathomable. But this is a summer for change.
Since You've Been Gone is just what a perfect summer read should be. When her best friend Sloane unexpectedly disappears without a trace, she leaves Emily with a list of 13 crazy things to do. What starts as an unbelievably awkward summer as Emily wanders town by herself turns into a wonderful adventure and chance for her to grow out of her shell, especially with the help of some unexpected friends that her list led her to making.
Emily was such a likable and relatable character for me. I'm someone who would never do the things she does here, who would much rather spend the night having a sleepover with a friend than going partying outside, and was able to perfectly relate to her feelings on unexpectedly being pushed outside of her comfort zone. Her reactions seemed so real to me! And it felt really believable as the book progressed and she grew as a person, to becoming a person who was so much stronger at the end than she was the beginning without feeling sudden.
Emily was amazing, but all the other characters were just as great! I absolutely loved Frank! He and Emily were just so cute together and I was rooting for them on every page! And Collins is the ultimate best friend that I need in my life! And Dawn was such a great friend too! Tbh I thought that the four of them were pretty much perfect squad goals.
There were some flashbacks periodically throughout the book that went back to when Emily and Sloane were friends earlier. These especially seemed to pop up whenever Emily was going to do one of the tasks on her list–the book would then go back to when the girls were younger and explain what exactly the task was, especially since it was often an inside joke. While I did enjoy reading about the girls' friendship at times, I overall didn't really like these flashbacks as they took me out of the moment (they often occurred right in the middle of a chapter!), and I didn't think they were really necessary. And as cute as Emily and Sloane's friendship was, the book wasn't really about them, it was about Emily's new friends so I wanted to read more about them!
I also thought that the book could drag a bit at times. At almost 500 pages, this was a monster for a contemporary! The beginning was a bit slower, and then the ending just seemed to rush by!
The ending was definitely my favorite part of the book! It was amazing to see how much Emily grew. And that romance just warmed my heart! I want a summer romance…
4 out of 5 green summer stars
You can also read my review on Goodreads here.
Check out Since You've Been Gone on Goodreads, Amazon, and Barnes and Noble.