Something I've noticed by reading hundreds of YA books: teenagers are very independent. They have their own cars and don't have to run much by their parents; they shoot them a quick text before going on a road trip with friends where they then scoff at how clueless their parents are.
Something I've noticed by being a teenager: teenagers are not quite as independent as we would like to believe. Many don't have our own cars and rely on our parents for transportation. Our parents have the final say on what we can and can't do, and often offer much valuable advice about life in this confusing stage.
It seems that there's a difference between the two.
Through reading so much YA, I've noticed that parents seem to be, for the large part, absent. Sometimes they're dead. More often, they exist but the main character's pretty much ignore them, and they pretty much are only referenced a couple of times through the book.
Exhibit A: The Fault in Our Stars by John Green: the parents are rarely mentioned, and don't really mind their kids flying off to Europe and going out by themselves.
Exhibit B: Paper Towns by John Green: several teens, boys and girls, take a spontaneous road trip right before graduation with pretty much zero planning.
Exhibit C: Everything, Everything by Nicola Yoon: two teens fly off to Hawaii with no sign of complaint by one of their parents.
Exhibit D: Windfall by Jennifer E. Smith: parents let two teens take a trip from Chicago to California by themselves.
Exhibit F: Eliza and Her Monsters by Francesca Zappia: The parents are there, but they're painted as completely clueless and useless, to the point of being villains that lead to suicidal thoughts.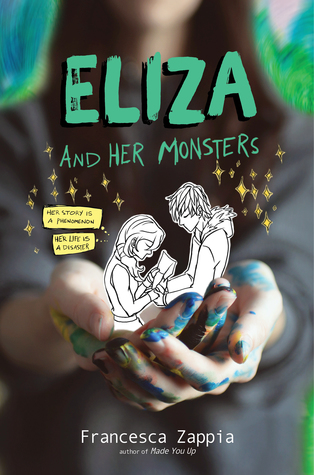 In my opinion, this is completely unrealistic. The fact of the matter is that teenagers do not have their lives together. We study 6 hours, get an F, and somehow try to bring it to an A. We try to juggle 6 academic classes at once, on top of sports, arts, other extracurriculars, and having a social life. We're stressed about college, and trying to figure out what on Earth we want to major in and where we want to spend the next four years. We have hormones and insane mood swings, laughing and being completely happy with friends, and then bursting into tears five minutes later. We often make stupid decisions, only to regret them ten minutes later.
In this crazy time of growth and maturing, parents play a huge role. They went through it before us, and they're there to help us and guide us. Sometimes we think that they're stupid and too old to understand anything, we hate how they expect us to act like mature adults at one moment and then treat us like elementary schoolers the next, but at the end of the day, they're still our guides. They still offer us advice on studying, help us with math, and take us to visit colleges.
Parents also still have a huge influence over the teenage life. I have a friend who wants to go to prom with her boyfriend, but her parents won't let her. I had another friend who had to ask a parent's approval before she could ask a boy to Sadie's. One friend went out with friends for an hour after school, without telling her parents, before coming home, and her parents were furious. I know many 16+ year olds who don't have their driver's licence (side note: I just got my licence this week so excited!!!), much less their own car, and rely on parents for rides (especially since it's illegal to drive another teen around until at least 17!). I've had numerous friends bail on plans because their parents can't take them, or want them to study instead of hanging out. One time a 5 person sleepover that had been planned for weeks was canceled the day before because parents got mad.
At the end of the day, teenagers are still kids. High school kids, but still kids, and still dependents on their parents. Parents play a huge role in the lives of kids, and I feel like this is usually not represented in YA fiction. As a result, a lot of the fiction ends up feeling really unrealistic. It ends up making me wonder if I'm missing out on some kid of teenage life because my parents are overprotective and I'm sheltered–but that can't be it, because all my friends are in the same boat! (unless my entire community is sheltered…)
I get that the teenage years are a time of independence, of maturing and rebelling against parents. I feel that all the time. And maybe reading about parents is boring compared to friends and boyfriends. It's exciting to have a story about jetting off to Hawaii with your high school boyfriend! But at the same time, I feel like these stories can be rather unrealistic, and I could probably relate to stories with parents more in them.
Let's talk in the comments below! Do you agree that the representation of (or lack of) parents in YA is unrealistic? Would you like to see more of them? I love to hear your thoughts ❤