Top Ten Tuesday is a book blog meme hosted by That Artsy Reader Girl. This week's topic is Characters I Liked That Were In Non Favorite/Disliked Books! This prompt was really hard for me because the characters are a large part of why I like/dislike a book!
1. Phoebe from The Catcher in the Rye (J. D. Salinger): I'm sorry, I know that it's a classic, but I just didn't like this book. The entire thing was just a hypocritical teen angsting about his life, and I already have enough of that with myself xD But Phoebe is so sweet and pure you just have to like her.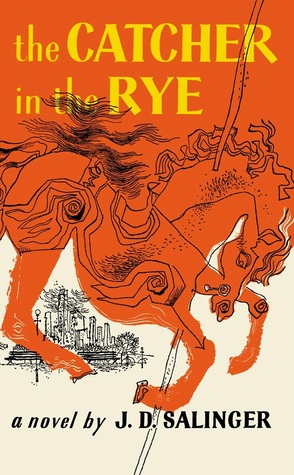 2. The Brothers from Eliza and her Monsters (Francesca Zappia): I say that I like them but I can't even remember their names… I didn't like Eliza so I didn't really like the book and therefore can't remember it that well, but I do remember loving her two younger brothers!
3. Reth from Paranormalcy (Kiersten White): I couldn't deal with these books because everyone felt so flat and the main character annoyed me so much. But I did like Reth! (Much more than the other love interest…who had absolutely zero personality…) He seemed so complex compared to everyone else, and so mysterious and cool ❤
4. Sydney Carton from A Tale of Two Cities (Charles Dickens): Let's be real, isn't Sydney everyone's favorite from that book? Reading TOTC made me want to gouge out my eyes but I did like this guy 🙂
5. Kile from The Heir (Kiera Cass): I loved the original Selection trilogy, and then Eadlyn showed up whining is and I didn't like it anymore…but I did like Kile #teamkile ❤
6. Kilorn from Red Queen (Victoria Aveyard): Ok I read this book so long ago and didn't really like it so I never read on in the series, but I do remember really liking this guy and being like, what are you doing with those two lame princes let me see more of this guy!
7. Jim from Huckleberry Finn (Mark Twain): I didn't like this book. I just couldn't get into it. But at least Jim was as good guy, albit rather hard to understand at times.
8. Finn from Trylle (Amanda Hocking): Although I loved Hocking's Watersong books, I just couldn't get into these. And I was really upset about the way the romance ended?? I mean, hello, Finn???
9. Riley from The Immortals: This is probably cheating since Riley is in like 1% of The Immortals, but she has her own series and I love her in that series ❤ ❤
10. The Sirens/sisters from The Siren: I didn't like the book because the entire premise was based on love, but it was really flat insta-love, and consequently forget most of this book. However, I do remember really loving the relationship between the sisters who cared for each other from this book!
That's my TTT for the week! Do we have any similarities between our TTT's? Comment below and I'll check out yours 🙂