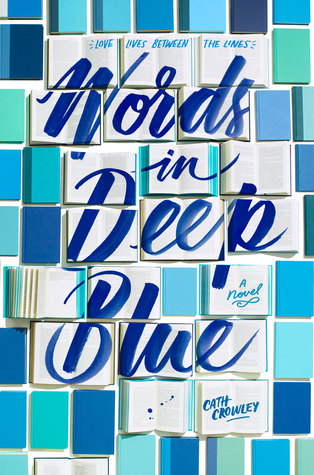 This is a love story.
It's the story of Howling Books, where readers write letters to strangers, to lovers, to poets.
It's the story of Henry Jones and Rachel Sweetie. They were best friends once, before Rachel moved to the sea. 
Now, she's back, working at the bookstore, grieving for her brother Cal and looking for the future in the books people love, and the words they leave behind.
"We are the books we read and the things we love."
Every book tells a story. But here in Howling Books, books tell more than just one story. They also tell stories of the notes scribbled in the margins, the love letters stuffed between the pages. Love letters like the one Rachel wrote Henry before leaving, the one that he never replied to.
Rachel and Henry were best friends as kids. Then, right before she left, Rachel mustered up the courage to write a love letter telling Henry of her true feelings. Their friendship ended after that, each moving on with their lives, getting new partners, forgetting. Now Rachel is back in town, but she's not the same girl she was before. The death of her brother Cal ten months ago changed her. The childhood friends are brought together again when Rachel gets a job working in Howling Books, Henry's family bookshop, in a beautiful story of love, life, and the power of words.
I came into this thinking it would be a light, fluffy, contemporary. Instead, I was moved by one of the most powerful stories I've ever read. Rachel's struggle, and the weight of her grief, is a consonant weight in her life, and readers get to see her try to move on with her life, while still being held back by that horrible loss. Watching her interact with her childhood friends, and seeing their love for her, was powerful too, and this story almost had me in tears.
Furthermore, I thought that this would be the love story of Rachel and Henry. It is, but it's also so much more than that. On the next layer, we get to see the love story between two secret loves, who only write each other love letter and never speak, and their story was maybe even more powerful. There's also the stories of Henry's parents, who might be getting a divorce, and just other people who come in to the bookshop. And the other types of love in the world; love between siblings and family, love between friends, love of books and their power, and more.
This is also a story of second chances, and how beautiful they can be. Often times in Young Adult, the characters are experiencing everything for the first time–first crush, first kiss, first love–but that is not the case here. The characters are flawed, troubled, and have haunting pasts holding them back, and it's so amazing to see them grow as a result of that. We make mistakes, but the most important part is getting back up again, taking a chance that might get you horribly hurt, but could also be the best decision of your life.
The characters in this book are so complex. They may seem one way on the outside, and they might get unfairly judged for this, but they have so much that they're hiding underneath. For example, Rachel comes back hardened and rude, but not everyone knows that she's grieving from her brother's so recent death. This book has such a powerful message–you should never judge someone if you don't really know what they're going through.
The ending was so bittersweet and sad, but also so satisfying and wonderful at the same time–I just loved it!
4.5 out of 5 blue paper stars
You can also read my review on Goodreads here.
Check out Words in Deep Blue on Goodreads, Amazon, and Barnes and Noble.