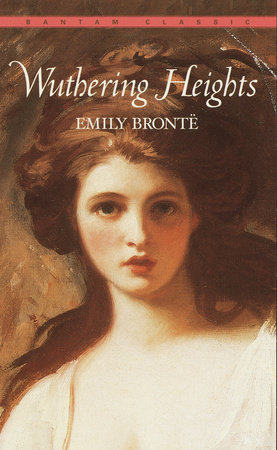 Goodreads Summary: Wuthering Heights is a wild, passionate story of the intense and almost demonic love between Catherine Earnshaw and Heathcliff, a foundling adopted by Catherine's father. After Mr Earnshaw's death, Heathcliff is bullied and humiliated by Catherine's brother Hindley and wrongly believing that his love for Catherine is not reciprocated, leaves Wuthering Heights, only to return years later as a wealthy and polished man. He proceeds to exact a terrible revenge for his former miseries. The action of the story is chaotic and unremittingly violent, but the accomplished handling of a complex structure, the evocative descriptions of the lonely moorland setting and the poetic grandeur of vision combine to make this unique novel a masterpiece of English literature.
Review:
"I have not broken your heart–you have broken it; and in breaking it, you have broken mine."
Love destroys.
Or at least that's the message one can infer from Emily Bronte's classic Wuthering Heights. The novel is far from a romance novel you might expect; instead, a gothic novel about the horrors and cruelty the wretched characters expect, and the doomed love between Catherine Earnshaw and the villainous Heathcliff.
When old Mr. Earnshaw finds an abandoned baby on the streets, he brings him home, forever introducing a bleak presence to their home at Wuthering Heights. The novel explores the all consuming love between Catherine and Heathcliff, and how history has a way of repeating itself in the next generation Cathy's struggles.
The most confusing part of the novel is how it is narrated. The story is told in first person narration from Mr. Lockwood. But he himself has very little to say; instead, he recounts all that his servant, Nelly Dean, tells him from her first person narration. Furthermore, many people tell Nelly stories that she then recounts from their first person narration.
Wuthering Heights is full of violence and cruelty. It shows just how wicked a person can actually be, and the insane things they might be driven to do by love. Within the first couple of chapters, the reader learns about a slew of dead characters, and their deaths are everywhere within the pages.
The integral part of the novel is the characters themselves, and their cruel and consuming personalities. I did not like a single character in the novel. Most of them I absolutely hated. They were cruel, violent, selfish, ignorant, and inconsiderate. Yet I still enjoyed the book. It was addicting to see the way they interacted, the horrors they brought on themselves.
For me, it's impossible to decide whether Heathcliff, the main character in a way, is the hero or villain. He's both. He's ruthless and merciless, yet you know it's because he's hurting.
The ending was really satisfying. It ended with a bit of hope in all the devastation, and possibly the beginning of a new story, breaking out of the Wuthering Heights induced hell.
3.5 out of 5 bleak, black stars.
You can also read my review on Goodreads here.
Check out Wuthering Heights on Goodreads, Amazon, and Barnes and Noble.