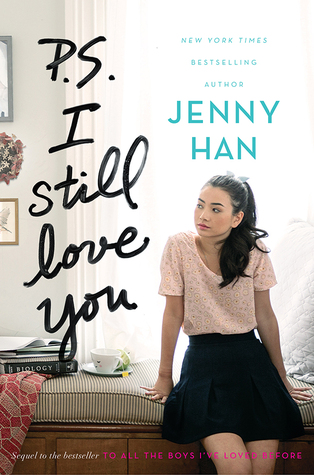 Goodreads Summary: Lara Jean didn't expect to really fall for Peter.
She and Peter were just pretending. Except suddenly they weren't. Now Lara Jean is more confused than ever.
When another boy from her past returns to her life, Lara Jean's feelings for him return too. Can a girl be in love with two boys at once?
In this charming and heartfelt sequel to the New York Timesbestseller To All the Boys I've Loved Before, we see first love through the eyes of the unforgettable Lara Jean. Love is never easy, but maybe that's part of what makes it so amazing.
Review:
"I know that I don't want to love or be loved in half measures. I want it all."
In the sequel to Jenny Han's beautiful To All The Boys I've Loved Before, Lara Jean has been thrust into the spotlight with a scandal involving her and her boyfriend, the absolutely swoon worthy Peter Kavinsky. All is not well; someone has taken a video of their makeout session session in the hot tub and now the entire school, students and staff, think that the two of them had sex in the hot tub.
This is more than enough to put a strain on their relationship, the relationship that was never supposed to happen in the first place because they were pretending. Furthermore, it is becoming increasingly evident to Lara Jean that Peter still isn't over his manipulating ex girlfriend, Genevieve. In the midst of all of this, another of her past loves, John Ambrose McClaren has just received his letter, forming the beginning of a heart wrenching love triangle.
I was pretty set on which side I was on in this book, but unlike the first book, there were definitely moments for both of the love interests, and I really think that Lara Jean could have been happy with either of them. Just maybe one more than the other. Lara Jean matures a lot in this book as well. The video is more than any high schooler should have to go through, and she really grows for having to deal with it.
The relationship between the three sister is just as endearing as ever. Peter and Kitty's friendship is adorable; it's clear he really cares about her just as much as Lara Jean. This book spent more time at the retirement home than the previous. Stormy was a hilarious and endearing character, full of all her own stories.
There was the addition of a game to this book that really put Lara Jean in a competitive spirit. That was a large part of why I liked this book less than the previous. I feel like she took it far too seriously, and at times it just seemed plain ridiculous when real life events and relationships were being compromised all for the sake of a silly game.
In the end, I enjoyed the first book in the series more than this one. However, I feel like it was still a cute and beautiful follow up. Like the first, it was a quick read that I devoured in a couple of hours in one sitting and I would highly recommend to anyone who enjoyed the first book, or who enjoys teen romance in general.
4 out of 5 pastel pink stars
You can read my review on Goodreads here.
Check out P.S. I Still Love You on Goodreads, Amazon, and Barnes and Noble.