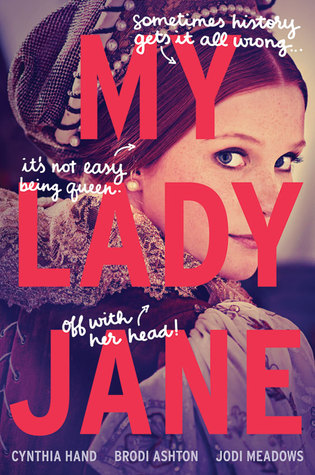 Goodreads Summary: Edward (long live the king) is the King of England. He's also dying, which is inconvenient, as he's only sixteen and he'd much rather be planning for his first kiss than considering who will inherit his crown…
Jane (reads too many books) is Edward's cousin, and far more interested in books than romance. Unfortunately for Jane, Edward has arranged to marry her off to secure the line of succession. And there's something a little odd about her intended…
Gifford (call him G) is a horse. That is, he's an Eðian (eth-y-un, for the uninitiated). Every day at dawn he becomes a noble chestnut steed—but then he wakes at dusk with a mouthful of hay. It's all very undignified.
The plot thickens as Edward, Jane, and G are drawn into a dangerous conspiracy. With the fate of the kingdom at stake, our heroes will have to engage in some conspiring of their own. But can they pull off their plan before it's off with their heads?
Review:
"On everyone's lap rested a book. Any book. In case the wedding got boring."
Lady Jane Grey was Queen of England for all of nine days before being viciously killed by Queen Mary. She, and none of her family had the ability to secretly turn into an animal. Nor did she spend every spare minute of her time with her nose buried in a book. Well, that's the way history tells it. But My Lady Jane is here to tell the truth of history.
The story starts out with the narrators quickly briefing us on how the late King Henry VIII was actually an Edian (with a special d that I can't type, pronounced ethian–I think), a person who could turn into an animal at will. Henry VIII could turn into a lion, prompting him to break away from the prejudice against Edians. His son, Edward, is nothing, and neither is Edward's cousin and best friend, Lady Jane Grey.
In the first chapter, we learn that King Edward is dying at the young age of sixteen, without ever having kissed a girl. He is then persuaded by his adviser Dudley to name Jane as his successor instead of either of his two sisters, because Jane is more sympathetic to Edians. He then marries Jane off to Gifford Dudley (who goes by G), an Edian who spends every day as a horse. The three heros are manipulated by others, thrown into a plot to change power of the crown.
I anticipated that this book would be funny. I didn't know that it was full on laugh out loud hilarious! The narrators play a part in the story, coming in at random parts to inform the reader about certain things. For example: did you know that Edward Tudor actually invented the stretch and reach to get closer to a girl? There were plenty of allusions in this book: Henry was The Lion King, Gifford actually wrote many of Shakespear's sonnets, and I'm pretty sure I caught an "as you wish."
When I picked up this book, I thought based on the title and blurb that was on the back of my paperback book, that the story would be all about Jane. This is incorrect; it is actually equally about the three characters: Edward, Jane, and Gifford. And the central conflict surrounds Edward himself. However, if it was unexpected, it was thoroughly enjoyed, and I found myself loving both of the male characters.
The setting of the book is an alternate version of England (since, as far as I know, people didn't spontaneously turn into animals in real history). Because of the Edians, who are a central part of the plot, My Lady Jane felt more fantasy than historical fiction, which I loved since I love fantasy!
I loved all the characters! Even the characters that I loved for being so villainous. The three main characters all had their distinct lovable parts: Edward, who has never really done much as king/wanted to be king, and really just wants to kiss a girl; Jane, who is always reading tomes and is not unlike a certain, lovable Hermione Granger, and Gifford, the second son who has never been cared about and just wants to be free from his father's nose (which is really long and ugly).
One thing that I wish had been better explained was The Pack, a group of ruthless Edians who break laws to take back the land for themselves. Towards the end of the book it seemed like they were getting more attention, but then they were sort of glossed over. I think there was a lot of potential of what could have been done with them.
If you are looking for a deep, insightful novel, a serious historical fiction, or a pulling romance, do not read this one. But if you want a magical, fun book to enjoy and laugh at every page, then this is the book for you! I loved it so much 🙂
4.5 out of 5 golden stars
You can also read my review on Goodreads here.
Check out My Lady Jane on Goodreads, Amazon, and Barnes and Noble.